COmiker Sam Nicoresti begins his show with an elaborate disinfecting ritual. Alex MacKeith starts with a number about the lockdown with his father: "A whole year", he sings in horror, "with a whole man". Jacob Hawley apologizes ahead of time for his opening gambit: "How many of you pussies have you been vaccinated?" Covid-19 on the brink is unavoidable this year – although at the time of writing the festival is running smoothly and largely infection-free. Covid cancellations are at a minimum and everyone is hoping – if we tiptoe – that we could reach the end without the virus, that sworn enemy of festivals everywhere, breaking out again.
This is the same virus that finally confronted us with what seemed unthinkable just two years ago: a fringe-free summer. When only a radically trimmed event was possible the following year amid ongoing Covid fears, many of us wondered if the unstoppable highlight of our year, the world's largest arts festival and the event to center the UK's live comedy calendar turns, would ever take place resurrect. That's the context in which many of us are experiencing a pinch-yourself rand this year. Can we do this again? Are the crowds here in sufficient numbers to make it worthwhile? And – did someone just cough?
With that in mind, not many artists have decided to do shows around the pandemic. And yet – what else are they supposed to talk about after two years of constant lockdowns and global plague scares? Rare is the comedy show that looks Covid in the face. Rarer still are the ones in which it doesn't appear at all – as an icebreaker, relatable gag, or a menacing presence that comics define their personality against. For Sikisa, it cramped her social butterfly style and inspired an entire show about parties. For the Australian actress Laura Davis, who lived in the forest as a refugee from her mother-in-law's too small house, Covid flipped a switch: she could no longer be a quirky comedian. Now she wants to fix the world.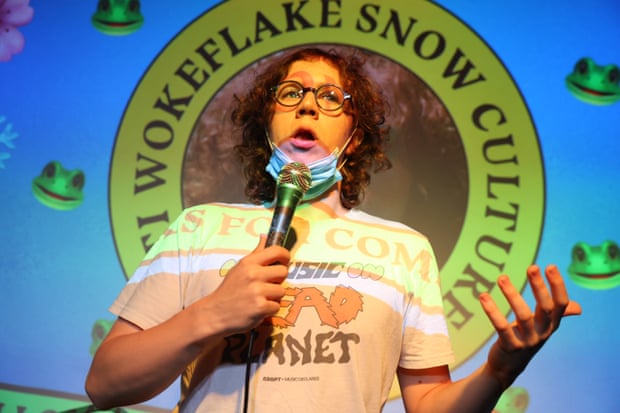 For Gen Z monster Leo Reich, who never expected to spend his early 20s "Googling the words 'death toll,'" it's just another of the slingshots and darts being besieged today's youth. Ditto for TikTok big-hitter Finlay Christie, who in his fringe comedy debut reflects on the experience (which sounds genuinely awful) of having his college career slammed by the pandemic. Try to do your French exchange at your mother's and father's house. It's not the same.
For the self-deprecating Rachel Parris, the coronavirus mocked her hubris as she planned a set about her newfound fame: "This was supposed to be a show about it me Going viral!" Tim Key's show Mulberry is also about being pushed out of the center of his own starry life. A London hit earlier this year, dramatizes it in verse and highlights the Alan Partridge pal's seclusion under lockdown – a "Story of a celebrity locked away… my fame falls off me like slow-cooked lamb dribbling off a shin." Key and comic book colleague Nick Helm also look back in disgust on their month-long comedy performance on Zoom, a utterly alienating one experience after which, instead of going to the bar to soak up the admiration, they closed the lid of their laptops and simmered their own loneliness and self-loathing.(Elsewhere on the sidelines, including Hawley's performance, comics snapped back shocked eyes another unloved pandemic phenomenon: drive-in comedy.)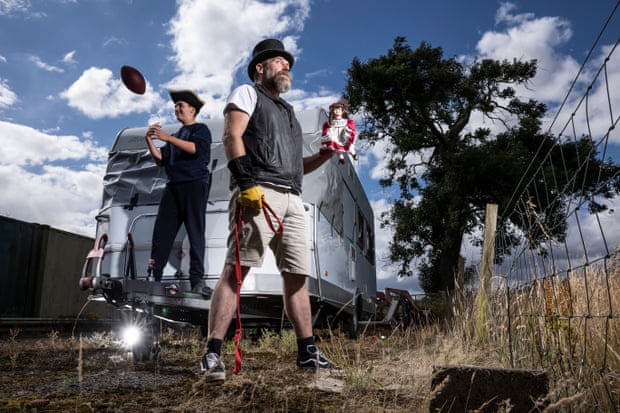 Helm is a fringe veteran and a recognizable sitcom face – he was the star of BBC Three's Uncle – and is among a handful of acts to focus their 2022 show on their Covid experience. It started with a Supergrass gig in early 2020 that infected the 41-year-old with the (probable) coronavirus. He was recovering just as the government announced a nationwide lockdown – his experience is featured in What Have We Become? Like much of his more recent work, it sounds like the depths of his poor mental health. This is a set about parting from and reuniting with your family on either side of a long dark night of the soul. It's also about Hello Fresh food parcel deliveries and the fight for the last noodles at Sainsbury's, for which Helm invents a particularly macabre metaphor.
You have to keep in mind that many of these shows are performed in poorly ventilated spaces – often in damp subterranean catacombs or hermetically sealed portakabins, unhealthily crammed with fringe visitors. Do they wipe tears of laughter from their eyes or do they sweat from their foreheads? This is why, as we began to realize in 2021 that Covid might never go away, many of us feared that the marginalized might ever struggle to recover. It is an almighty carnival of exchanging respiratory droplets and social gatherings in a confined space. In its optimal form it is, thank God, a world away from those peak Covid experiences we had as we sat dejectedly in small, isolated islands of the auditorium, sealed by clinical plexiglass walls hazmatized by our fellow theatergoers.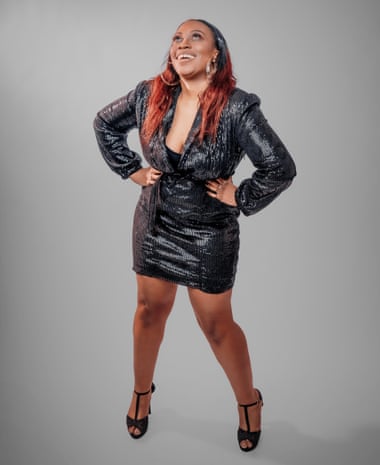 Julia Masli is an Estonian clown comic whose beautiful show Choosh! traces the journey of an Eastern European migrant to the USA. To denote the offshore stages, she spits water from her mouth in playful little arcs towards her audience. You couldn't the on Zoom — and Chris Whitty probably still doesn't recommend it. However, Masli attracts large crowds. While fringe audiences across the board are expected to be about 10% below pre-pandemic numbers – not least because international tourism has yet to fully recover – the festival feels fairly dense so far. I have never sat in an empty or half-empty room. You can't take a seat in the Pleasance Courtyard, nor navigate the Royal Mile quickly: people are back in great numbers on the fringes.
There have been a number of canceled performances – including for comedian Nic Sampson, who contracted Covid, and The Last Return at the Traverse, which also saw a cast of Fringe First Winner Happy Meal miss out. But so far the virus has been kept in check – and talked about on stage mainly in the past tense. And there's something cathartic about that. Here was the plague that ravaged the performing arts, keeping comics, dancers, theater makers off the stage and sometimes propelling them to whole new careers. Lauren Pattison's comic show It Is What It Is recounts her work in the freezer at Morrison to stay afloat when live performances were banned.
"Guys, what have we all been through?!" as Canadian jerk Tony Law would like it to be. Watching Law crack two extremely silly visual gags about lockdown (during which he forgot how to dress and took up falconry), or joke to Parris about "that disposable mask you've been using all year." or watching Josie Long style the lockdown disguised as a mafia boss under house arrest is supposed to slay the Covid demon in some way. We were bowed, Edinburgh Comedy is here to tell us, but we weren't beaten!
That's certainly the vibe on Australian comedian Reuben Kaye's fabulous late-night show The Butch Is Back. More than any other set I've seen, Kaye's set is about celebrating that the nightmare is over (if only temporarily), that we're back in the same room together and, crucially, Reuben Kaye is ours to pay attention. For Helm's Zoom performances or Hawley's drive-in comedy, check out Kaye's tour of "regional rural Australia" (he practically vomits the phrase), where his brand of high-profile, gender-bending comedy tends to struggle to find its natural audience.
Such was the fate of Australian comics, forbidden to leave their country. It happened the other way around for Rhys Nicholson: his show recounts how he was stranded in New Zealand as the Covid curtain fell. But it's not her destiny anymore! And in the hour of Reuben Kaye, a pretty exploding glitter cannon of pent-up entertainment and cheered to the rafters by the after-hours crowd, this contingent moment of Covid freedom has to be savored: laughing with strangers in a claustrophobic room like it is – as before – the most natural thing in the world.
Shows to distract you from Covid-19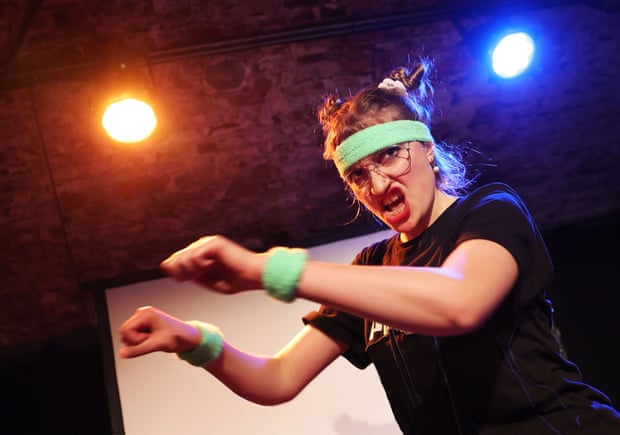 Frankie Thompson: Catts
A lip-synching found-footage oddity about our feline friends, this well-known clown comedy might be about fear – but at least it's not Covid fear.
boulevard, until August 28th.
Freddie Hayes: Potato Head
Freddie Hayes' solo show, directed by Sh!t Theater, is about a humble guy who dreams of becoming a standup.
boulevard, until 29th August.
Mat Ewins: Danger Money
Reliable in your handful of the purely funniest shows on every fringe, Ewins' out there, tech-heavy comedy might ban any blues.
Just the Tonic @ The Caves, until August 28th.
Alistair Beckett King: Never again
Funny and cerebral standup about the North Sea, cave paintings and professional bubble players, from a comic with no real connection to the real world.
pleasure domeuntil 29th August.