F1
What we learned from Friday practice for the Saudi Arabian GP in F1
Max Verstappen dealt another hammer blow to his rivals' hopes of challenging Red Bull after topping F1 in Friday's practice sessions ahead of the Saudi Arabian Grand Prix.
After struggling with a stomach ailment for the past few days, Verstappen was absent from Thursday's media sessions after arriving late in Jeddah, but all the lingering repercussions gave the Dutchman no trouble as he worked his way to the top of the two timed sessions plowed on Friday – His RB19 chariot proves effective in both daylight and nightfall.
Red Bull had significantly more evidence to back up their early credentials and Milton Keynes' team showed great pace in their longer run simulations in the second half of FP2. So it's difficult to make the case for any of the other teams who might have been hoping to factor in the mix for a podium finish, unless they can count on the intervention of a higher power to stem a loss in Sunday's race.
The story of the day
In the afternoon FP1 session, Verstappen clocked a time of 1m29.617s to be almost half a second quicker than teammate Sergio Perez, but the usual caveats in night racing to which F1 is accustomed to in the Middle East apply in terms of route conditions.
Trackside observations indicated that the RB19 remains hermetically sealed to the road even in the most challenging high-speed corners, and both Verstappen and Perez were able to negotiate the re-profiled Turn 22 with complete ease.
While the corner snaps less than their previous iteration and requires a few more down-clicks on the downshift paddle to get the right output torque, the two were able to walk the line perfectly. Neither felt in danger of incurring the wrath of those responsible for enforcing the lane boundaries, such was their command over a compliant car.
As ambient conditions pushed the mercury towards 30C and track temperatures escalated, Red Bull's dominance of the first hour of racing could be taken with a pinch of salt given the cooler evening conditions. But there was no such luck for the nine other teams in FP2.
There, Verstappen again built up an advantage over the rest of the field. On his best lap of the daylight session, he was just 0.014 seconds ahead and clocked a 1m29.603s on a set of soft tyres, but remained relatively unimpressed. Fernando Alonso, who continued to impress in his first few months at Aston Martin, accounted for more than half the deficit Perez faced – but was still over two tenths behind the Red Bull by the end of the race on soft tires in FP2 .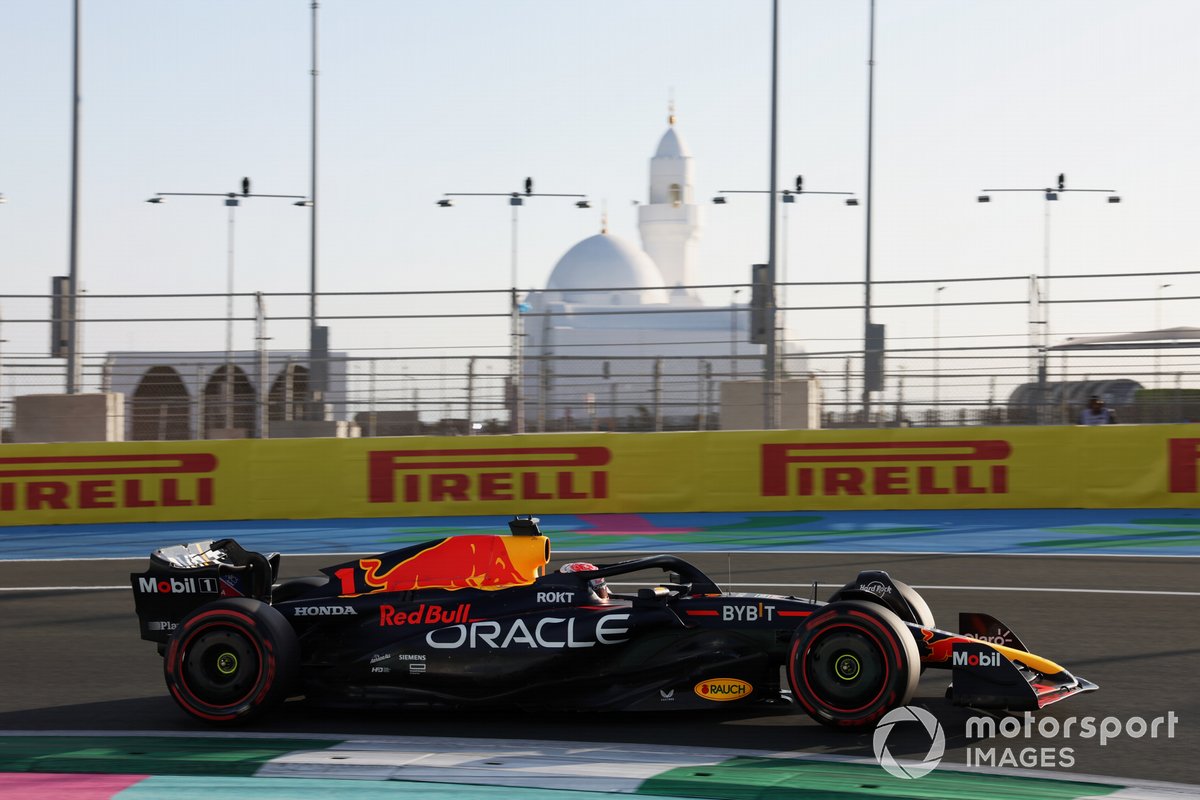 A gastrointestinal problem did not slow down Verstappen, who led both sessions on Friday
Photo by: Glenn Dunbar / Motorsport Pictures
In particular, Verstappen seems to have plenty of confidence as he tackles the racy toboggan run after Turn 4, and as he approached Turn 9 the Dutchman felt confident enough to step on the gas again before slowing down to make it Getting the best out of Turn 10 The likes of the Mercedes duo and Fernando Alonso eased off earlier going into Turn 9, while Leclerc needs to lift off a bit earlier and maintain throttle position to lag as late as Verstappen.
However, Alonso continued to look composed at the wheel of the AMR23 and it's clearly a machine that suits him like a glove. His 1m29.811s put him in Red Bull territory during the hot-lap portion of FP2, suggesting he can offer at least some degree of disruption to the raging Bulls in qualifying trim.
Saudi Arabian F1 GP – FP2 results
After a difficult Bahrain, Alpine offered glimpses of an encouraging pace as they hope to fulfill their ambition to challenge the Ferrari-Aston Martin-Mercedes trio. Esteban Ocon was fourth fastest ahead of George Russell, with Pierre Gasly also within half a second of Verstappen's benchmark.
Data from Motorsport.com shows that Ferrari was not running at full capacity during its soft tire runs, at a straight-line speed disadvantage to its immediate rivals, suggesting the engines were being revved down. With reliability concerns spreading on Leclerc's side of the garage in recent weeks, resulting in a grid penalty for a new energy storage system, this could simply be a decision to play it safe.
In this data, Mercedes showed a comparative lack of cornering power due to a decision to run at a lower level of downforce. The team was able to keep tabs on their rivals in terms of straight line speed, but the slower sections of the track were affected compared to the Ferraris, who had a tiny difference to the Red Bulls in the braking zones.
In the corners, Mercedes still loses time compared to the competition
Photo by: Steven Tee / Motorsport Images
How strong is Red Bull in the races?
Verstappen and Perez were split on their longer runs in the second half of the session; The former was tasked with exploring the limits of the soft tyre, which despite being quicker initially, showed a marginal deficit over Perez on the medium tyres. According to Pirelli, the two connections are relatively evenly matched; although of course the soft tire offers an earlier release point and this is exacerbated at higher fuel loads. As such, there are indications that there could be many teams willing to explore a mid-terrain launch.
Alonso's longer run on the medium tire was initially compatible with Perez's efforts, but the Aston Martin driver experienced a slightly larger drop in pace and after six laps on the same yellow marked boots was around half a tenth behind the Mexican Perez's times drop further.
Ferrari's long-distance pace is looking more solid, but the limitation in engine performance still applies – Sainz completed six laps on the same medium compound, but this was split between two laps on light fuel and three laps towards the end on higher fuel levels; As such, Leclerc's 15-lap run has been used as a more representative indicator of his pace in the table below of average run times on the middle tire. His run, like Alonso's, has been much less consistent compared to Perez – but the Scuderia helpfully appear to be in a similar range to the Aston Martin and Mercedes sides.
Alpine's pace shouldn't be ignored though – and if the team can carry their pace into Sunday's race it could pose a real threat to those vying for the final podium after Ocon's times in the standings. Gasly's run on soft tires, spanning 12 laps, was level with Verstappen's soft 16-lap stint towards the end of the session.
Mercedes should also be there, depending on whether a switch to a higher downforce setup will result in a more powerful race car, but it could jeopardize the team's qualifying ambitions.
Average cross-country pace on medium tires
| | | | |
| --- | --- | --- | --- |
| position | team | avg Time | Round |
| 1 | red bull | 1m35.096s | 15 |
| 2 | Aston-Martin | 1m35.281s | 15 |
| 3 | alpine | 1m35.373s | 14 |
| 4 | Mercedes | 1m35.449s | 13 |
| 5 | Ferrari | 1m35.452s | 15 |
| 6 | Williams | 1m35.855s | 12 |
| 7 | Alfa Romeo | 1m36.142s | 10 |
| 8th | haas | 1m36.664s | 14 |
*McLaren, AlphaTauri made long runs on softs and difficult
But although Red Bull is playing its cards close to its chest and Verstappen has hinted that a race with less degradation compared to Bahrain could consolidate the pack, there are very clear signs that the team are poised for another strong result in Saudi Arabia is prepared.
The picture is subject to change, of course, but few of the other contenders expect them to have any hope of beating last year's title-winning team.
Verstappen and Red Bull remain the ones to beat in Saudi Arabia
Photo by: Glenn Dunbar / Motorsport Pictures
quotes of the day
Max Verstappen: "We had a positive day. But there are still some things we can do better. We're closer, but that's more due to tire management. They don't really let you push here at the moment so I think the lap times are really tight on a low grade track. So it's definitely not like Bahrain…"
Fernando Alonso: "I think Friday is always not very representative, also in Bahrain we were okay like P1 on Friday and then in qualifying we were P5, almost P6. So you never know until we go into qualifying. But we tested what we wanted to test in the car. I think it's still not an ideal balance so we still need to find some grip tonight. But yes, so far so good. It's another good start."
Sergio Perez: "When you learn the conditions from FP1 to FP2, they tend to always change. A good read was therefore essential. We had a small mechanical issue with the car which hopefully we can sort out for tomorrow and give us a bit more pace, hopefully we can at least have a better idea of ​​where the car is. It's been a bit inconsistent and difficult to get the right reading today, but overall we seem strong. But the competition is there, as expected."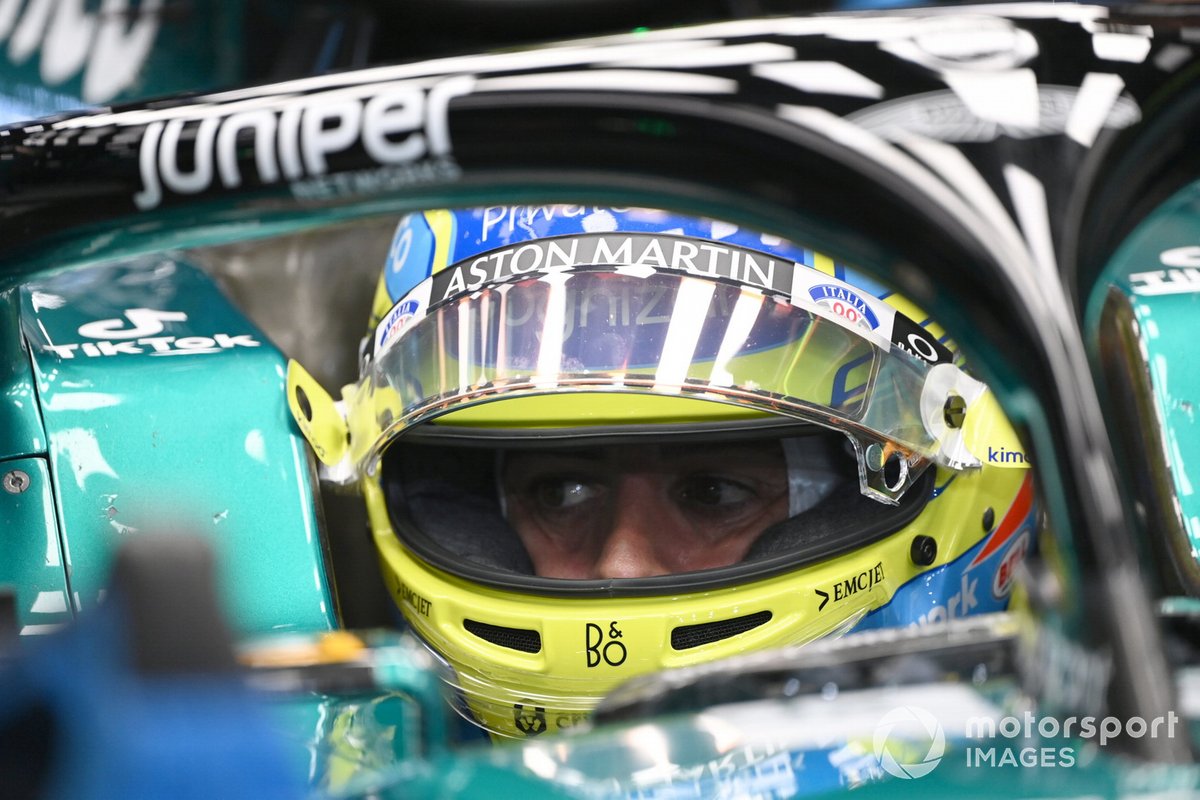 Could Alonso challenge the Red Bulls in qualifying?
Photo by: Mark Sutton / Motorsport Images