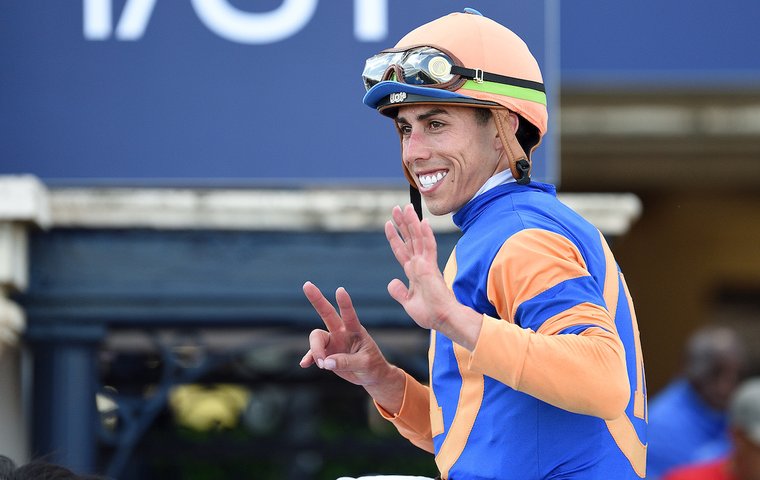 Irad Ortiz, Ryan Moore and Lane's End Farm feature in our weekly round-up of the latest international racing news
Seven in a row for Irad Ortiz at Gulfstream
UNITED STATES: Irad Ortiz became the first jockey to ride seven consecutive winners at Gulfstream Park as the reigning Eclipse Award winner dominated the nine-race card in the February 3 course game.
The four-time US Jockey Champion is one of five to ride seven winners in one day in Florida, along with Jerry Bailey, Tyler Gaffalione, Luis Saez and Paco Lopez. "It's the first time I've won seven races in one day," he said. "Not every day is like today. It's hard, but today was one of those days."
Ortiz, 30, partnered with three other winners the following day, including two G3 competitions, which helped him climb to No. 2 in the TRC Global Rankings, overtaking William Buick. Australia-based James McDonald remains the world No.
Turkish racetracks help with earthquake relief
Turkey: Horse racing in Turkey has been canceled until further notice after the devastating earthquake that killed more than 11,000 people in the region. Four Turkish racecourses – Adana, Diyarbakır, Elazığ and Şanliurfa – are being used as temporary shelters to provide temporary accommodation and food.
The Adana racetrack is about 100 miles from the epicenter of the first earthquake near the city of Gaziantep. The tracks also serve as collection points for donations to the affected regions in Turkey and Syria. More here
Ryan Moore rides Jun Light Bolt in the Saudi Cup
Saudi Arabia: Ryan Moore will drive Champions Cup (former Japan Cup Dirt) winner Jun Light Bolt in the $20 million Saudi Cup, while plans are finalized for Japan's six challengers in the world's richest race.
Joao Moreira will partner with three-time G1 winner Cafe Pharoah, while Christophe Lemaire will take the mount on Geoglyph and Mickael Barzalona will be on Vin De Garde. Fillies Triple Crown winner Daring Tact, set to compete in the Neom Turf Cup, has been ruled out due to injury.
US targets as Lane's End buys stake in Missed The Cut
GB: Lane's End Farm acquired a stake in Royal Ascot winner Missed The Cut ahead of a summer campaign in the US earlier this year.
The progressive four-year-old son of Quality Road, winner of four of his six races, will contest the G3 Neom Turf Cup under Oisin Murphy on the evening of the Saudi Cup.
"The plan is that the horse will end up at Lane's End Stud if it fulfills the potential that we think it has," said trainer George Boughey. "There's a race like the Whitney in the middle of summer and I'd be amazed if we didn't see him at Saratoga, but before that Dubai and races like the Prince of Wales's Stakes may need to be considered."
No Dubai Turf for Golden Sixty
Hong Kong: Golden Sixty won't be running in Dubai next month and will rather target Yasuda Kinen in Japan on June 4 after he wraps up his Hong Kong campaign, owner Stanley Chan told Asian race report's Chinese language department.
Luis Saez and Brazilian Jeane Alves enriched the IJC field
Saudi Arabia: Luis Saez, who was aboard Maximum Security for the inaugural Saudi Cup, will return to Riyadh to compete in the International Jockeys' Challenge on the eve of the world's richest race. The Panamanian will be joined by Jeane Alves, who became the first woman in her home country to ride a G1 winner when she landed the Grande Premio Jockey Club Brasileiro in 2015.
France Galop limits lashes to four
France: France Galop is the latest jurisdiction to impose new restrictions on the use of jockeys' whips after announcing that riders will be allowed four lashes from May 1, a reduction from five previously. There will also be harsher penalties for those who exceed the number of strikes by three or more, which come into effect after a three-month conditional period.
Elsewhere in racing…
GB: Three-time champion Oisin Murphy cleared to return after 14-month suspension More here
USA: HISA recommends no action regarding the Hot Rod Charlie shoe request. More here
Australia: Adam Hyeronimus' return from betting suspension delayed due to injury Read more here
Ireland: Joseph O'Brien Sends Four Horses to Sydney Autumn Carnival More here
Australia: Cox Plate will remain in place through 2023. More here
• Check out all previous issues of Seven Days In Racing
Check out the latest TRC Global Rankings for horses/jockeys/trainers/sires