Carolina
Virginia Tech tees off #18 North Carolina in the ACC opener
Virginia Tech built a big lead over No. 18 North Carolina Sunday afternoon and the Tar Heels brought it back close but couldn't quite get back and the Hokies held on to an 80-72 win. Armando Bacot didn't play in the contest and his rebound, particularly on the offensive end, was missed by a wide margin, but Virginia Tech did exactly what they had to do and took the big win over the preseason ACC favorites.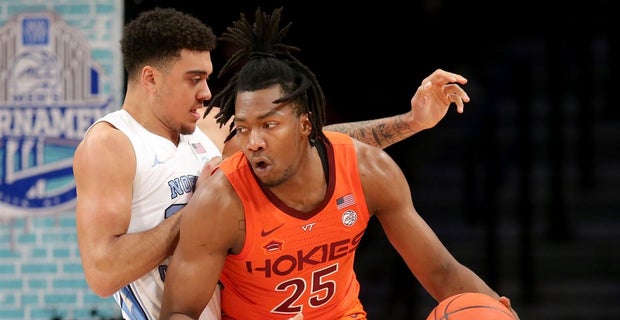 Justyn Mutts was the star for the Hokies that night, outperforming the Tar Heels alone for much of the second half before North Carolina started to put it together. Mutts finished the game with 27 points, 11 rebounds and 4 assists and there were big stretches where Justyn got anywhere he wanted on the court and lane. It was a very special showing for Mutts this afternoon. Grant Basile joined him for most of the night, finishing the game with 12 points, 4 rebounds and 4 assists. Virginia Tech did pretty well on the defensive end, only allowing North Carolina to get 4 offensive rebounds in the entire game and having Nance working from the outside so those two should get plenty of credit on either end of the court.
Then there were the three guards for the hokies, but the third guard might come as a surprise. Sean Pedulla was the guards leader with 14 points, 4 rebounds and 4 assists and had 5 of the game's most important points when he hit a three in under a minute as the team tried to lose some time and two free throws at the end. Hunter Cattoor was next with 13 points and 3 rebounds, with most of his points coming in the first half. The third guard was MJ Collins, who didn't start but put on an incredible performance with 8 points and 8 rebounds, with 5 of those rebounds coming on the offensive end. Collins showed up in all the right spots and made for a really nice night with his offensive production and solid defense.
North Carolina looked completely off-beat in the first half and mostly in the second, but once they got into a rhythm, they looked exactly like the team you'd expect from preseason favorites. Pete Nance, Caleb Love and RJ Davis all finished with 18 points for the Tar Heels, but outside of those three there wasn't much of a push. Nance really turned it on in the second half, adding 10 rebounds with his points, but struggled for most of the first half. Love and Davis both struggled in the first half and saw limited minutes but still couldn't make it work from the outside, scoring just 3 for 17 as a team.
Bacot was obviously a big mistake, but this is still a great win for the Hokies. This North Carolina team has a lot of talent but hasn't figured out how to play well together. There were glimpses of that tonight, but also glimpses of what Virginia Tech can really do. Focused on crashing the boards, the Hokies won the rebound fight 39-25, along with the aforementioned offensive rebound stats, with the Hokies winning that fight 10-4. It was another off-perimeter shooting night for everyone outside of Hunter Cattoor, but this team still finds ways to win and distribute the ball even when things don't go the way Mike Young would like.
Virginia Tech is up 8-1 (1-0) this season and will take on Dayton at home on Wednesday night at 8 p.m. for their next contest.