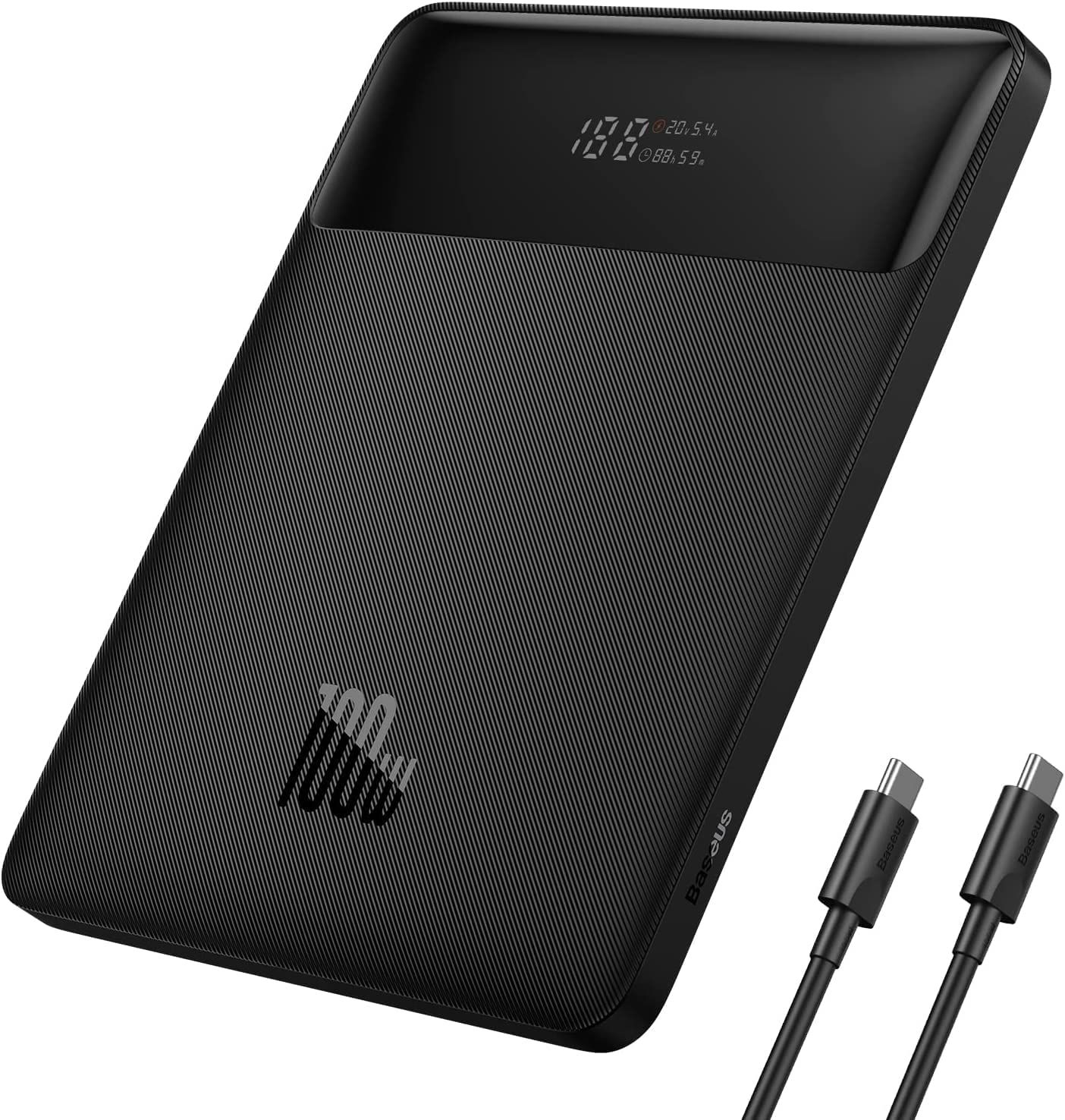 Source: Baseus
Baseus 100W Blade USB-C 20000mAh power bank
$80 $130 Save $50
With an output power of up to 100 W and an enormous capacity of 20,000 mAh, the Baseus Blade USB-C power bank with two connections is a must-have in your backpack. There's enough juice here to charge a smartphone at least three times and enough to keep a laptop running without having to run to an outlet. For $80, this is a must-have if you're a techie who's constantly on the go.
If you are constantly on the go for work or just like adventures, taking a power bank with you is almost a must these days. Almost all of us have at least one smartphone in our pocket or purse at all times, but for those of us who bring our laptops, smartwatches, and even wireless earbuds with us, power is a precious commodity.
It's bad enough when one of them runs out of power, but when they all start getting to the low battery level, you've got a real problem – especially if you're not near an outlet to charge them. This is where a power bank can save the day, and there's an excellent deal on the Baseus 100W 20,000mAh power bank and portable charger for $80 that can keep your devices going no matter where you take them.
Why the Baseus 100W 20,000mAh Power Bank is worth your money
Whether it's your laptop, your Steam Deck or your smartphone: at some point you will need a charge on the go. If you don't have an outlet nearby or don't have a charger, you're out of luck. This Baseus power bank has enough juice to not only power all of the devices listed above, but also enough to multi-charge most of them.
With an enormous capacity of 20,000 mAh, this battery can charge your smartphone from zero to full at least twice before it needs to be charged itself. Use it with a laptop or Chromebook and you can still work at least a few hours with enough juice to recover at least 50 percent battery when you connect your laptop to it.
And all this much faster than standard chargers as it supports most of the major fast charging standards with two USB-C ports with 65W and 100W output power and two USB-A ports for connecting older devices. With a proper USB-C connection, you can have your laptop up and running again in just 30 minutes.
A practical LED digital display also informs you about everything you need to know about the performance of the power bank. How much juice the power bank has left, the charging speed of connected devices, and even the remaining charge time are all instantly available to keep you informed. It also features over-heat, short-circuit and over-discharge protection thanks to a built-in BPSII chip that monitors the power bank while charging.
With most power banks of this capacity costing $120 or more, the Baseus 100W power bank is an excellent bargain at the discounted price of $80 – even more so when you consider that this is the best price we've had in a while.