By David Greenham
By the time the Hackmatack Playhouse closes, by my count there will be only one professional summer residency theater left without venture capital in Maine: Acadia Rep (established in 1973) in Somesville, near Bar Harbor.
smoke on the mountain, designed by Alan Bailey. Book by Connie Ray. Directed by Jeff Seabaugh. Musical direction by Emily Zentis. Costume design by Fran Bechtold. Lighting design by Tayva Young. Set design by Jeff Seabaugh. Produced by Hackmatack Playhouse, Berwick, ME. through August 20th.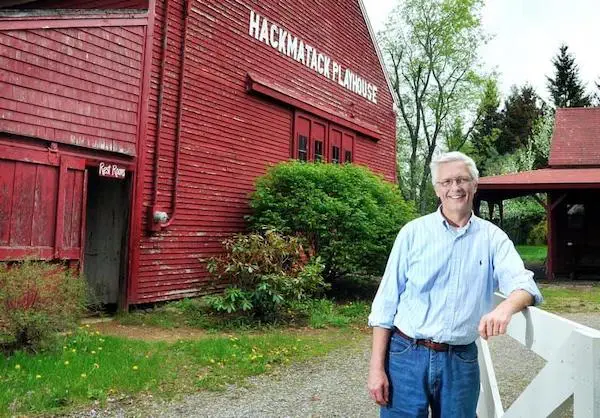 If you love New England theater history or even old movie musicals, you're probably familiar with the famous Straw Hat Circuit. From the 1930s and 1940s to the last half of the 20thth Throughout the 19th century, stage and screen stars have been featured in plays and musicals in a network of summer theaters for week-long engagements. A 1947 map of the Straw Hit Circuit lists nearly 30 theaters scattered across the northern New England countryside.
The Straw Hat featured famous actors in leading roles, often with a professional supporting cast rushing from theater to theatre. You can still hear stories from Frederic March, Ethel Barrymore, Tallulah Bankhead and hundreds of others who have performed at theaters such as the Cape Playhouse in Denis, the Peterborough Players and the Ogunquit Playhouse. As the choice of mass entertainment expanded, circuit celebs switched to TV stars like Don Knotts, Barbara Eden and even John Travolta in his Welcome back Kotter days. (You guessed it, he was touring with a William Inge production Bus stop.) The success of the Straw Hat Racetrack inspired imitations throughout the New England countryside. Summer residence theaters sprung up in communities large and small. These unionized and non-unionized companies often featured 'future' stars who presented a less expensive alternative to the big circuits.
In 1972, in the small town of Berwick, Maine, farmer Carlton Guptil decided to build a cowshed on his 17th birthdayth Century family farm into a (non-union) straw hat stage. The first summer at Hackmatack Playhouse included productions of the show 10 Nights at a Bar, Harvey, The Fantasticks, Wait Until Dark, and You're a good man, Charlie Brown. Each show ran over two weekends and tickets were $3 each.
Hackmatack closes its 50thth Anniversary season next week after the closing performance of smoke on the mountain, the only offer this summer. The show marks the final season for the brave company. By my count, all that remains is one professional summer residency theater without venture capital in Maine, Acadia Rep (established 1973), located in Somesville near Bar Harbor.
Visiting Hackmatack is like stepping back in time. It's a throwback to the Judy Garland/Mickey Rooney facility, including a barn theater, concession stand and box office. Adjacent to the barn are a few different buildings which house the stage and costume shops. Stored props, sets and costumes fill every nook and cranny. If theater is in your blood, the place is heavenly lit by the limelight.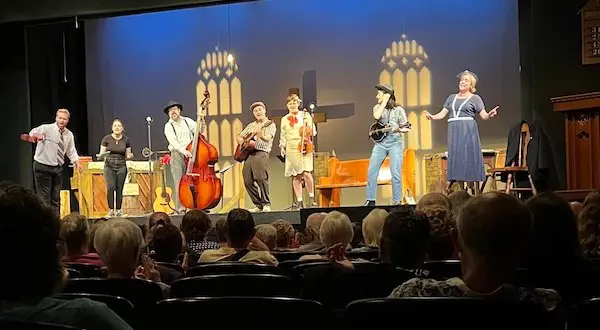 But, as Bob Dylan observed, "times are changing," and producer Michael Guptil, Carlton's son, has seen the economic and cultural signs on the wall. "Actors still want to work, and they love the experience of doing it. But the audience is aging and there are so many other ways to pass your time and you never have to leave the couch," he laments. Guptil, who works full-time at a food broker in Boston, was overcome by the increasingly depressing truth of what it takes to provide live entertainment: "Despite the fact that the theater is 50 years oldth Every year the preparation requires the same amount of effort."
smoke on the mountain was not the first choice for hackmatacks last season. The rights to two other shows have been pulled – a reality of the show's "business".
Alan Bailey and Connie Ray's melodic but thin smoke on the mountain somehow fits as an elegiac capstone. Like the stage, the musical is also a relic of bygone days, but unlike Hackmatack, the musical is not an authentic piece of the past. The bluegrass and gospel musical was originally headlined at Princeton's McCarter Theater in the late '80s and has since become a popular summertime production for theaters across the country, particularly in the South.
Set in 1938 at the imaginary Mt. Pleasant Baptist Church in North Carolina's Smoky Mountains, the show begins with quirky pastor Marvin Oglethorpe (Evan Stechauner) welcoming the congregation to the church's first Saturday Night Songfest. The singers for the night will be the Saunders family, who are reuniting after a five-year absence from the gospel circle. The family includes father Burl (Billy Butler), mother Vera (Emily Zentis) and twin children Dennis (Stephen Blauch) and Denise (Jules Good). They are joined by Burl's brother Stanley (Jacob J. Zentis) and Vera's sister June (Linette Miles – in most productions, June is Burl and Vera's older daughter). The Hackmatack Playhouse production brings in an additional cast member, Cousin Judd (a mandolin-playing actor named Fury, who does not speak on the show).
The production is fun; The few a cappella numbers are the musical highlights. Jacob J. Zentis, as the cursed brother Stanley, delivers a story and song in the second act that noticeably takes the production to another level.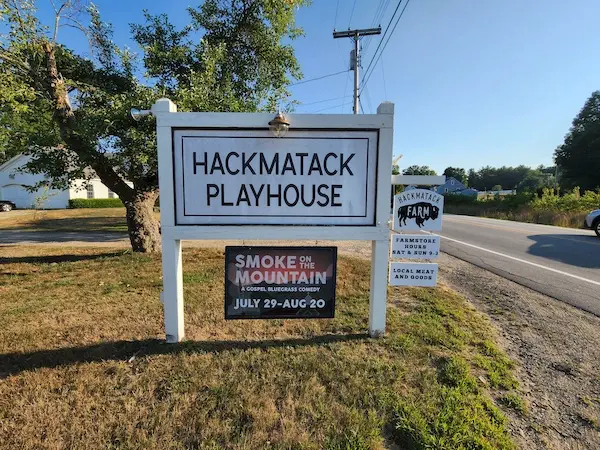 But it's the neighborhood ambience that steals the show. The volunteer crew is friendly and welcoming, and the audience exudes an obvious love for the place that's only marginally connected to what's on stage. The curtain may fall on Hackmatack, but Michael Guptil is full of enthusiasm. He greets every visitor like an old buddy. His wife Gayle still bakes 35 pies a week to feed the hungry crowds during recess, and the pastries are served with a scoop of homemade ice cream from Rococo, their daughter Lauren Guptil's popular Kennebunkport candy store.
"It was always so nice to bake and have the windows open to listen to the choir rehearse," Gayle recalls. The closure of the family business is "bittersweet, but also quite nice," adds Laura. "I grew up with a musical theater in my backyard. I mean, who does that?"
At a time of young artists weighed down with college debt, there is an increased need for decent wages to replace the old $100-a-week plus room and board contracts. We're taking important steps toward a future where more theater artists will make a living from their craft. However, the result may be fewer theater awards to choose from.
But it's important to take a moment and honor the passing of an era when summer camps meant five productions in ten weeks. Yes, it was an impossible schedule, but there were plenty of opportunities to receive invaluable on-the-job training and indelible "war stories." For the cast, crew and support staff who could handle the heat and pressure, the experience was in some cases life-changing: friendships were formed, romances blossomed and unforgettable experiences were shared. "People thought I only worked at the concession stand when I was a kid," says Lauren Guptil, "but I learned about sales and customer service and how to be nice to people. I am very happy."
Local audiences were fortunate to have places like Hackmatack Playhouse to meet. When they leave, we lose a sense of community that doesn't return in times of isolation and social media.
---
David Greenham is Associate Professor of Drama at the University of Maine at Augusta and Executive Director of the Maine Arts Commission. He has been a theater artist and arts curator in Maine for more than 30 years.