A year ago, Tommy Lloyd probably set a new basketball record in Arizona for most fun on the Washington swing.
The itinerary was typically grueling: two games, three flights, a 90-minute bus ride, about 2,500 miles total, and little sleep. As usual, it began on the same old flight to Spokane, Washington, on a Wednesday night last February.
Except upon landing, Lloyd took his staff to a private dining room at a Spokane restaurant, where they met Gonzaga employees, who Lloyd worked with until Arizona hired him as the Wildcats' head coach in April 2021. Everyone had a good time.
The next day, shortly after arriving at WSU's Beasley Coliseum, Lloyd stepped outside to greet a group of friends who had also made the 90-minute drive from Spokane to attend his first game as head coach in his view home country.
Then the Wildcats beat the Cougars 72-60 and boarded a late-night charter flight to Seattle, just two hours from Lloyd's hometown of Kelso. There they wiped out the Huskies 92-68 less than 48 hours later.
Good times for Lloyd and the Wildcats alike.
This weekend could be different. The Wildcats need another Washington sweep to stay in the Pac-12 race, but they battled both Washington schools at McKale Center just three weeks ago, beating Washington just 70-67 and losing 74-61 to WSU.
Off the pitch, the second trip home for Lloyd may not have the same magic either.
"Last year was special because it was the first year, but I don't have any big plans this year," Lloyd said earlier this week. "I'm sure I'll meet some of the guys, but hey, we're on a business trip. Whether we stay in Spokane or LA or whatever, we just go there and do our routine."
The Zags haven't been having that much fun lately either. While Gonzaga and Arizona both ranked in the top five when the Wildcats passed Spokane last season, both are now coming from the kind of tough losses that can sober the mood a bit.
Over the past three weeks, the Wildcats lost at home to WSU and were eliminated in Oregon, while Gonzaga lost at home to Loyola Marymount. The Zags' loss was also at home, although Lloyd contradicted any notion that it was worse than what the Wildcats had experienced.
"I think all these losses are tough," Lloyd said. "Whether you're in Arizona or Gonzaga, sometimes you lose a home game that you're hoping to win and that hits hard. But I think we're all vulnerable, and obviously that's how it looks in college basketball this year. You really have to go out there and earn whatever you get. Nothing can be taken for granted."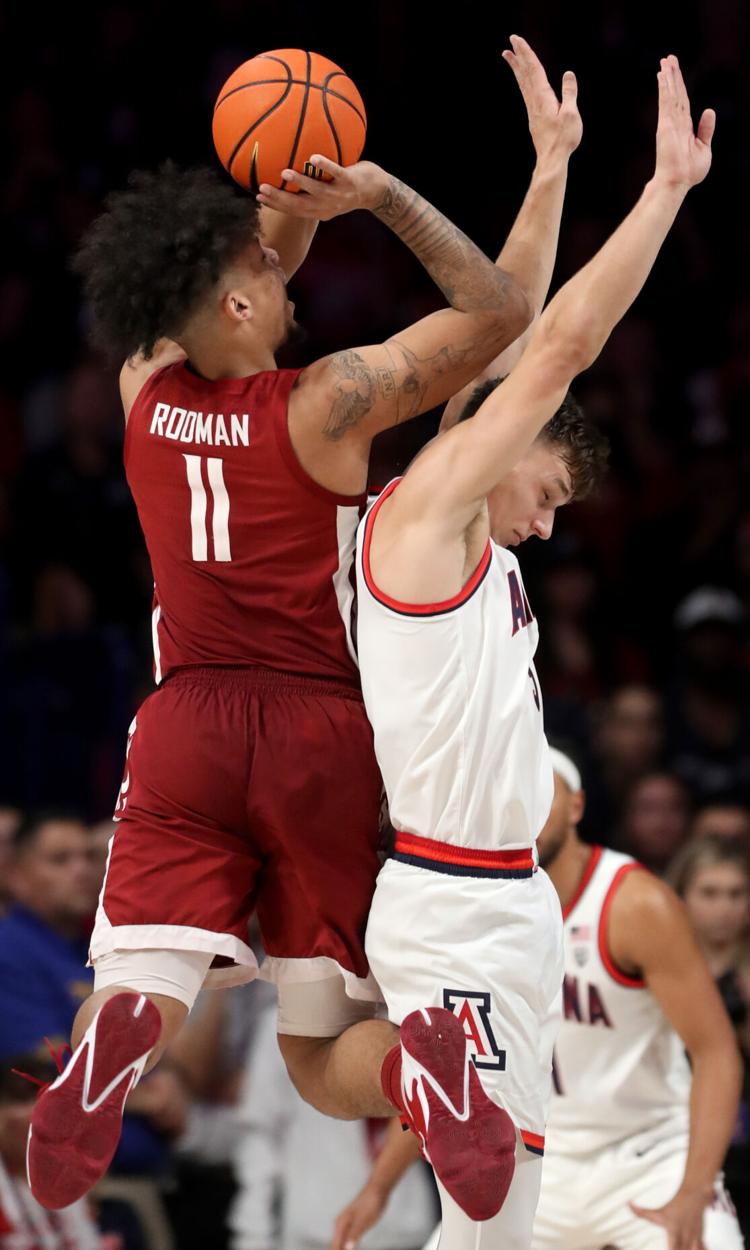 Not even a game in Washington state. The Wildcats haven't lost at the Beasley Coliseum since 2009-10, but the Cougars are 6-2 there this season after losing only by a point at home to Utah and to UCLA in overtime.
Of course, they also got that big road win at McKale Center three weeks ago.
So this is a business trip. Maybe nothing but.
"It's one of those deals," Lloyd said. "If playing in the Washington schools there, how the games were going, doesn't have our boys' attention, then there's a bigger problem."
At least with Azuolas Tubelis, this is probably not the case. The Wildcats' leading scorer and rebounder said Wednesday that all UA players and staff are focused on Thursday's game.
Tubelis also said the Wildcats could be better defensively than the team that allowed WSU to hit 12 of 28 3-point shots, and based on last weekend he could be right.
Arizona, once the nation's most efficient offensive team, might actually be better defensively now, if the UCLA game was any indication: UA won that game despite shooting just 38.8% from the field, keeping the Bruins at still a miserable 31.3%.
The Wildcats may need a similar defensive effort to get past both Washington schools this week. While WSU hit 12 of 28 3-point attempts, Washington overtook UA by 42.6% to 36.4% at McKale on Jan. 5. The Huskies held off UA with their 2-3 zone while WSU even let Mouhamed Gueye's 6-11 recede past the 3-point line.
"Sometimes matchups are interesting," Lloyd said. "A team's record may be what it is, but they're just fine with you and they can cause problems, so for some reason we have to figure it out.
"You have to make decisions defensively. There can be times when you're like, "Hey, we're willing to give up this to get this." And sometimes you just gotta guard everyone and be aggressive. Both answers are probably correct, and whichever one you do, you just have to do it well."
Offensively, Lloyd said he hopes to find more answers now that he's using a "tighter" rotation — but that rotation will likely take more than the seven guys Lloyd played against UCLA on Saturday. Arizona's 58-52 win over the Bruins saw reserve players Henri Veesaar and Adama Bal sit on the bench for the entire game for the first time of the season.
"We need players eight or nine to get promoted," Lloyd said. "We need someone to really move forward and make it happen. That would help our team. There is no doubt about it. But until that happens, we're going to be kind of stuck where we are right now."