Movie Schedule
The sci-fi thriller "M3GAN" brings techno horror to Chinese screens
The sci-fi horror film "M3GAN" hit Chinese theaters on Friday after an exciting premiere in Beijing on Tuesday.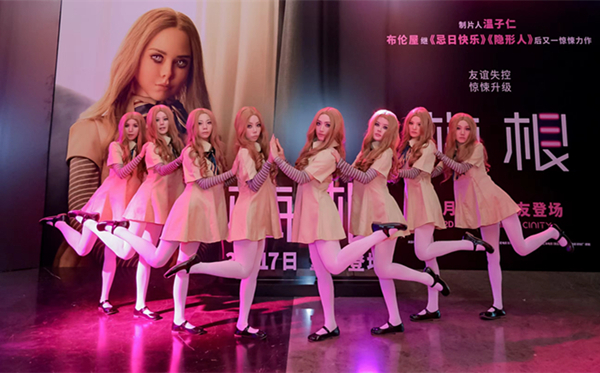 Cast members dressed as the title character of "M3GAN" pose for a photo at the film's Chinese premiere in Beijing, China, March 14, 2023. [Photo courtesy of Universal Pictures]
Directed by Gerard Johnstone and produced by horror film masters James Wan and Jason Blum, M3GAN tells the story of a brilliant female robotic engineer at a toy company who uses artificial intelligence to create M3GAN, a lifelike doll destined to express an emotional Bonding with her newly orphaned niece. But when the doll's programming works too well, she becomes overprotective of her new human friend, with dire and gory consequences. The film stars Allison Williams and Violet McGraw, while Amie Donald, a child actress and dancer from New Zealand, portrays M3GAN and Jenna Davis provides her voice.
The techno horror film has garnered commercial and critical success since its debut in North America and other markets in December 2022, grossing over $172 million worldwide on a budget of $12 million, according to Box Office Mojo. It was praised by critics for its campy mix of horror and humor, satirical elements, and performances.
Universal Pictures hosted an exciting and spooky premiere for the film in Beijing, increasing the excitement for those in attendance. At the theater, several cast members performed dressed as the film's title character and later danced the famous M3GAN routine that has gone viral on social media platforms such as TikTok around the world.
The idea for the film came from Wan's Atomic Monster Productions, who brainstormed stories and chose one about a killer doll. Although Wan's 2014 film Annabelle also featured a killer doll, he explained in an interview with The Hollywood Reporter, "Pretty much the concept is over-embracing technology and over-relying on it. And what happens when technology runs amok is a commentary on the world we live in and it feels relevant."
Following the film's success, a sequel titled M3GAN 2.0 is rumored to be released on January 17, 2025.