Racing
The new TR Racing IMOCA by Thomas Ruyant was presented

The new TR Racing IMOCA by Thomas Ruyant was presented
by Ed Gorman / IMOCA Globe Series Mar 19 8:12 AM PDT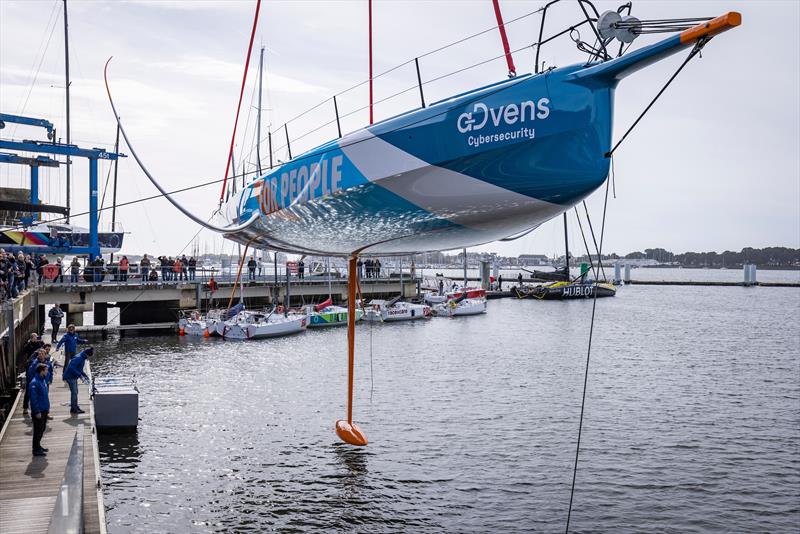 TR Racing's new IMOCA is unveiled in Lorient © Pierre Bouras / TR Racing

At the top of the IMOCA class, teams, designers, skippers and trading partners compete for supremacy, and every now and then something new emerges and everyone has to take stock.
That's the impact TR Racing is having as it showcases its stand as the first fully integrated two-boat, two-skipper team in IMOCA, with its own state-of-the-art team base in Lorient currently being built. Up to 30 employees will be set up for the next employed for three seasons.
It's a big statement from the group, co-funded by cybersecurity leader Advens and global consultancy Leyton, and on the water by Route du Rhum Destination Guadeloupe 2022 winner Thomas Ruyant and the highly rated British newcomer will be represented in the IMOCA class, Sam Goodchild.
Last week, Ruyant's new boat – dubbed For People and designed by Antoine Koch in collaboration with Finot-Conq – was launched at La Base in Lorient as the first walls of the new base were built. In mid-April, Goodchild will be back from his Southern Ocean duties aboard Holcim-PRB as part of The Ocean Race to re-launch his former LinkedOut (new name to be announced).
The interesting aspect of this multi-faceted project, which retains its strong social responsibility mission and has drawn comparisons to two-car teams in Formula 1, is the sharpness of its sporting focus. That means giving Ruyant the best launch pad to win the next Vendée Globe – a dream come true for a man who finished 75% of the last race in the top three only to end up falling to sixth place.
Thomas Gaveriaux, the managing director of TR Racing, is pretty clear about the goal. He agreed that TR Racing is setting a new precedent for team organization within the IMOCA class. "But that's also how we think and design the best possible route to put Thomas in the best possible position to take on the next Vendée Globe and of course Sam," he said.
"It's new because it's true that it's never been done before, but we like to build our own route in an environment that is becoming very competitive and increasingly professional in each team," he added. "This route was embraced and embraced with Thomas and the support of our historic sponsor Advens. And now with Leyton and Sam joining us we have the capacity to execute what looks like the ultimate route."
Gaveriaux doesn't need much prompting to list the benefits of a two boat, two skipper organization that is fully integrated from top to bottom. He talks about using the older boat – which has been developed and tweaked over the last four years and is considered the reference within the class – to speed up the learning curve with the new foiler. He talks about the opportunity to grow and strengthen the team by bringing in new expertise, the financial benefits of cost sharing, the increased efficiencies in logistics, design work and project management, and the benefits of competition between the two skippers.
"We get people to compare our work to the line-ups of some motorsport teams – especially in Formula 1 – because it's pretty obvious and easy to understand how they work," said Gaveriaux. "But we're probably aiming for something that's a lot more integrated, and relying on how deep we can create the relationships between everyone that makes up the team we're building to improve the performance of both skippers."
Ruyant, 41, can't wait to get his hands on his new boat as he takes charge of the organization that bears his name. A sister ship in hull form to the new Paprec Arkéa 24 skippered by Yoann Richomme, the new boat has interesting freeboard, bow and hull features, all of which help the skipper hope for high average downwind speeds in the Southern Ocean.
"Our goal is to increase the average offshore speed," Ruyant said. "It's true that the hull lines and what we've done in terms of design are quite radical and different from the last boats that have come out which are more Scow-like. Ours has a somewhat two-story hull, with width at the front and top. It's a bit like a motor boat hull. There's a lot of detail and you can't see everything, you see the big bow, but the whole hull is very refined and has a lot of power and a big evolution in the foils."
The winner of the 2021 Transat Jacques Vabre, who won the Route du Rhum in Class 40 in 2010, accepts that taking on a new boat after such a successful partnership with the old Guillaume Verdier-designed LinkedOut could be frustrating.
"There's some risk in changing boats and moving forward with a different architect and design team," he said. "But at the same time, I'm pretty sure about the choices we've made. We spoke to Antoine Koch for two or three years, we worked together a lot on the previous boat and he brought his expertise to understanding the new boat."
Ruyant's goal is to win the Vendée Globe and he loves the IMOCA GLOBE SERIES format in a class that he says is "making good progress, with 40 boats and some exceptional sailors" that he's up against want to compete and race. "What is happening in the IMOCA class is crazy, with the well-established Globe Series circuit and the Ocean Race bringing an internationalization to the class that is very much appreciated by our partners. What's happening on the water right now is what moves us all to want to be there – I don't want to stop at all!" he said.
And Ruyant admits he will have a competitive team-mate in Goodchild who could beat him in his old boat. "I'm delighted that such a good sailor is taking over this IMOCA boat because we've put a lot of energy into advancing and designing it," he said. "We want Sam to continue to sail well and be a front runner. There will certainly be races where Sam finishes ahead of me, but after that the finish is the Vendée Globe. The other races will allow us to be ready for that and what is certain is that once across the starting line Sam will be a competitor like any other."
Gaveriaux says that alongside sporting goals, TR Racing's goal remains to nurture the team's impact partners who support "isolated and vulnerable people" in their return to work and are behind the LinkedOut theme and now For People.
"We won't disclose the details of the current partners' finances," he said, "but we're fortunate to have two strong financial backers for the program — one historic for Thomas and the other historic for Sam — to our powers." come together to deliver a fully committed program whose primary purpose is to give our impact partners as much visibility as possible."