From humble beginnings, Lot 3 is now increasing its audience.
The self-proclaimed music collective will perform their own song at this year's Spring Sing, which will be released on the day of the event. Guitarist and third-year public affairs student Harry Frahn said the song "Untethered" that will be performed will be a medley of musical tastes and will be released on the day of the concert. Lead singer and third year theater student EJ Chen said the collective started out as a cover band, playing fraternity sets and backyard gigs before developing their original sound while practicing in a campus parking garage. While the collective has played with a variety of musicians in the past, Chen said that he, Frahn, third-year theater student, Ian Gibson, third-year theater student Xander Ambrose, and third-year theater student Gil Weissman, will be the core group that will occur the event.
"It was supposed to be a one-off performance," Chen said. "Gil and Harry are jamming, playing around with chord progressions and bass lines. … We were practicing in parking lot 3, and I looked around and said, 'Okay, this is the space.'"
In the early stages of the group, it was just a bunch of friends who all enjoyed making music together, Chen said. Back when it was a cover band, Chen said the group put together a set, which resulted in a few members getting splinters — leading to their original name, Splinter Kids. When a certain campus parking lot became their home base for drills and "jam-seshes," Chen said, the group made the transition to its current nickname, Lot 3.
[Related: Student releases studio single following success of musical content on TikTok]
When the collective was composing their song for Spring Sing, Weissman said the group would schedule three to four Zoom calls a week and give each member homework to come up with verses and melodies. Members began discussing what the song should be about, Chen said, emphasizing issues that were more meaningful to them at the moment. He said "Untethered" specifically centers around the theme of not wanting life to pass them by, with a carpe diem attitude to its lyrics.
"We all felt like we were stuck in this cycle," Chen said. "Especially with COVID-19, just being caught up and seeing them (the group) be like 'I can't do anything' or 'Your chances are limited' and 'Life is a little bit duller and boring'."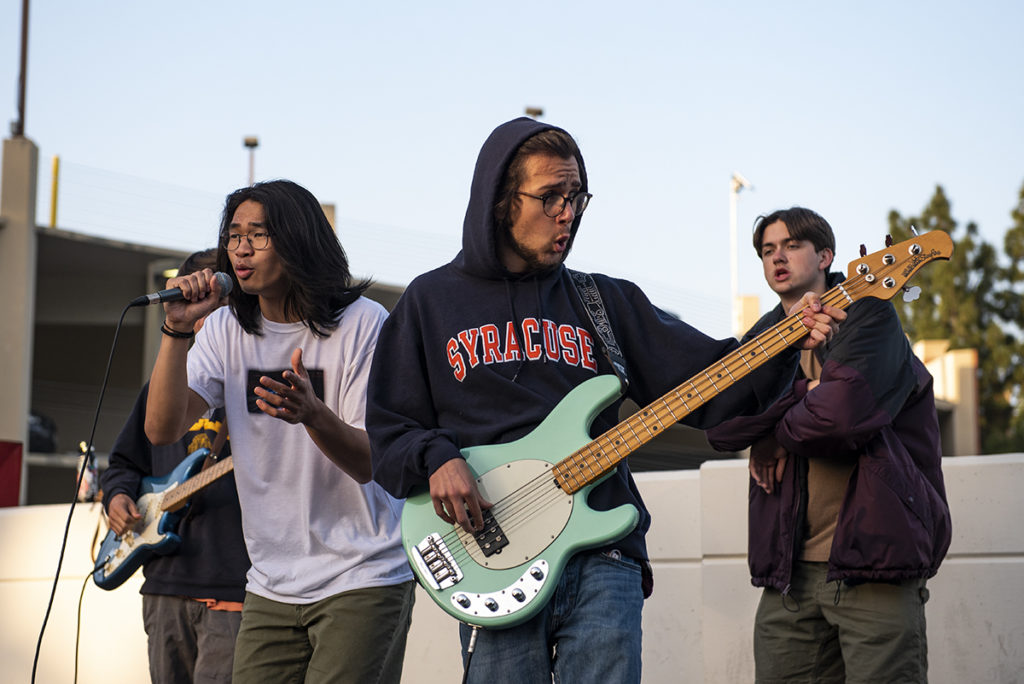 With this realization, Chen said, the group wanted to break this monotony perspective and make a song to emphasize the need to seize the day. Now that Spring Sing is returning in person, Chen said he expects "Untethered" to be an appropriate tune to complement that enthusiasm. As the sound took shape, Weissman said, each member of the group brought their own unique groove to the musical regime.
Because everyone has their own taste in music, Weissman said they often push each other out of their musical comfort zones. From funk-inspired tunes to the anthems of psychedelic rock or indie grime, each member of the group brings their own genre and lyricism to the song-making process, Chen said. For example, Weissman says he's into funk, while Chen is into softer ballads, blurring the line between classic pop tropes and grungy rock. Discussing what each of them brings to the table, Weissman said Chen is particularly adept at emotional lyrics, and since Weissman and Frahn have been playing together for a while, they have a musical chemistry that carries over into the group when they play.
[Related: Alumna navigates death, grief and the afterlife in self-produced debut EP]
Reflecting on the spring quarter, Chen said that performing on Spring Sing has always been part of his dream. He said this will be the collective's biggest audience to date, so he expects it to be an energetic and thrilling experience. With a few of the members who have a background in theater, Frahn said they knew how to address the crowd.
As posted in Lot 3's Instagram bio, Weissman said the group has since viewed itself more as a collective It started off just as a group of friends who liked music and eventually brought in more friends who also liked music. Frahn said the collective still sometimes experiment with bringing in new musicians to some of their performances. However, Frahn said the performance will be the core group for Spring Sing.
"We're only up there for one song, and this is our only chance to show the audience who we are and what we're capable of," Chen said. "The energy in the stadium will be so incredible that we'll let it go and give it our all in that one performance."