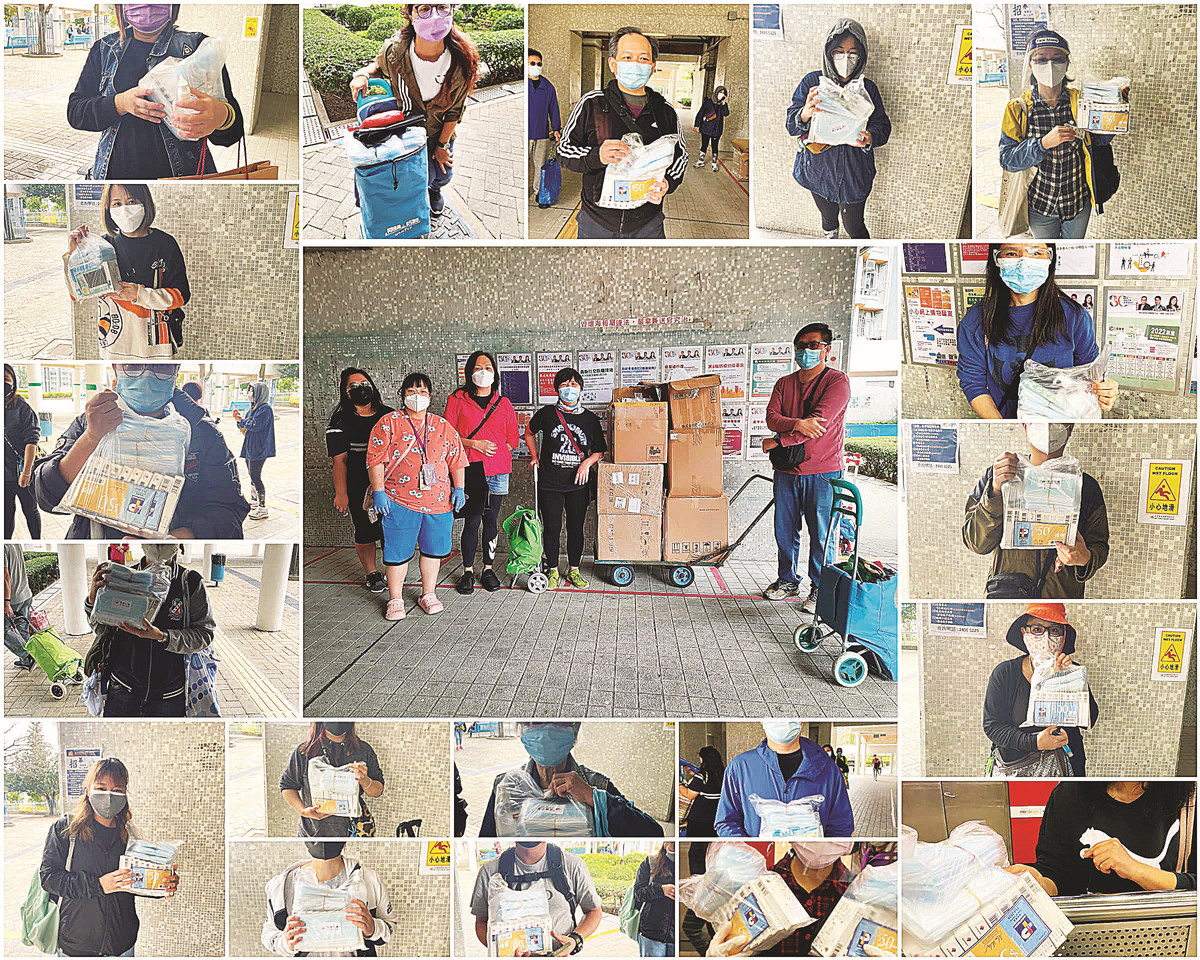 Editor's note: China Daily spotlights ordinary people in Hong Kong as they share first-hand accounts of their fight against the virus and how they've helped others in need in the city.
When you help others, you help yourself
Milk Wong, 43-year-old mother of two boys with autism
My 10-year-old autistic son suddenly appeared in front of the door. He opened the shoe closet, took out his shoes and put them on. I tried to stop him from going out but was pushed out of the way.
I had to sit him down and keep explaining to him why he wasn't allowed to go out for more than 10 weeks because of the epidemic.
Of course he couldn't understand it. He started screaming, crying and hitting himself. I also had to intervene in conflicts between him and my 14 year old son who is also autistic and had to take some online classes.
My younger son's screaming and frantic pounding on the bedroom door got on his brother's nerves, and he yelled out in anger, "Mom, he's bugging me again!"
Caring for two autistic children is not easy and the epidemic has exacerbated the problem.
It was just the "new normal" of my family's days, even before all of our family members contracted COVID-19 and had to self-isolate at home. Not to mention the discovery that I could be the cause of my two sons being infected.
In 2016 I founded Little Star, a non-profit organization to help other families with autistic members by hosting events and sharing information with them. Since the outbreak of the epidemic, I have been honored to have received requests from many Good Samaritans in the community to pass on their donations of anti-epidemic supplies to these families. I've been doing this for two years and have managed to protect my family and myself.
At the height of the fifth wave of the epidemic – the worst Hong Kong has seen so far – I had to go out at least twice a week, usually on weekends, to distribute relief supplies. My husband stayed at home to take care of the children. Sometimes I had to deliver thousands of anti-epidemic items to hundreds of people in a single day. I had to pack supplies until the early hours of the morning.
I knew my risk of contracting the virus was high. However, I couldn't stop because no one understood the struggles of these autistic families better than I did.
My family lives in social housing and my husband is the sole breadwinner. Fresh food prices skyrocketed at some point during the fifth wave, and I only had to compare prices on a bunch of cabbages. Many other families are under more financial pressure than we are. They depend on government benefits as their main source of income and therefore cannot afford medical and treatment fees. They are in dire need of anti-epidemic supplies.
The only thing I could do was do my best to protect myself and my family. I have had three vaccinations against COVID-19 and my sons have had two. I always wore two masks and disinfected myself when I went out to distribute supplies.
Apparently that wasn't enough. On March 11, my entire family tested positive after I went on a field trip to deliver relief supplies. The only good news was that after seeing many people around me who had the disease, I had prepared myself emotionally for what was to come.
I quickly recovered my composure and immediately called all 26 people who had been in close contact with me that day and reminded them that they needed to have a rapid antigen test done immediately.
After that I updated my social media page with the news and apologized to those in need for not being able to deliver supplies in the near future.
My husband and I soon started coughing and sneezing and my sons developed fevers. I took inventory of medication and food at home to prepare for quarantine. I kept telling myself to stay positive because showing a bad mood would worsen my children's condition.
To my surprise, I quickly found myself on the receiving end of the same kind of kindness, with messages of comfort from the very families I had previously helped after updating them on social media about my situation. Bags of fresh groceries were quietly left at my door along with 200 rapid antigen test kits.
When you help others, you help yourself.
All my family members have now recovered. I'm back on the front lines, returning the gesture by distributing anti-epidemic supplies.
Milk Wong talked to Oasis Hu.