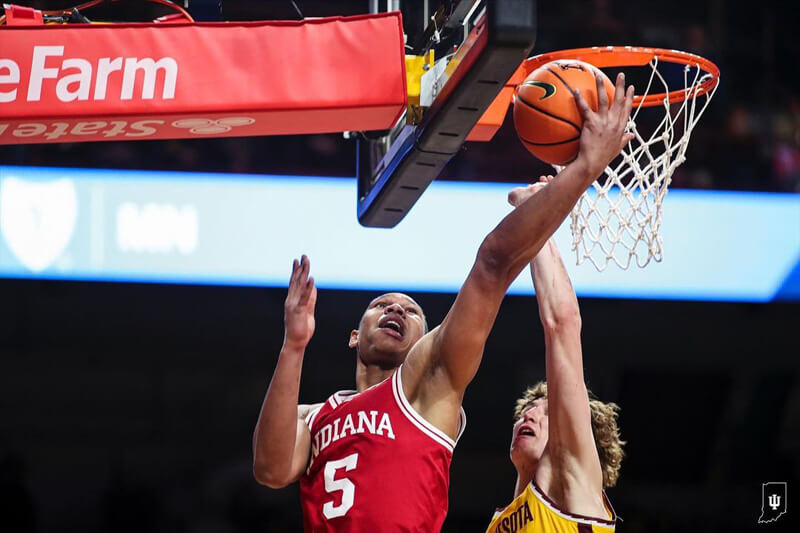 Quick thoughts on a 61-57 win in Minnesota:
How it happened
Circumstances in Minneapolis on Wednesday were unusual. Mike Woodson did not make the trip due to a recent COVID-19 diagnosis. Minnesota's top scorer Dawson Garcia was out with an ankle injury. Before the game at Williams Arena, there were many empty seats. Indiana, a double-digit favorite, came out without a focus. The Hoosiers turned the ball over five times in the first eight minutes. Minnesota got into the bonus quickly as IU struggled to defend straight line drives. After six minutes, Minnesota led 24:18. Indiana looked to gain a foothold offensively in the final six minutes as the Hoosiers scored 15 points for a 33-30 halftime advantage. Trayce Jackson-Davis had nine points and 11 rebounds in the first half but was only 4-to-9 from the field. Malik Reneau led IU with 10 points in the first half.
It wasn't a particularly strong start to the second half, but Indiana made enough plays to extend the lead to seven at 45-38 after a Jackson-Davis bucket was removed from a baseline in tied play. The Hoosiers led 47-40 at the U12 media timeout. However, Minnesota had an answer. The Gophers scored the next seven points to keep it at 47, forcing Yasir Rosemond to call a timeout. Minnesota then took the lead at 50-49 on a Jamison Battle 3 pointer with 8:55 to play. Indiana quickly took the lead, however, playing on a Trey Galloway 3-pointer by 8:28. Minnesota again took the lead 55-54 on a Battle 3 pointer with 6:22 to play. A Jackson-Davis dunk with 2:22 remaining cut the Minnesota lead to 57-56.
With 43.7 seconds to play, Race Thompson split two free throws to make it 57, but a Jackson-Davis offensive rebound on the free-throw miss and subsequent putback gave IU a 59-57 lead. Ta'Lon Cooper missed a 3-pointer on Minnesota's next possession and Miller Kopp grabbed a loose ball and called a timeout with just over 20 seconds left. Minnesota then ran the clock down to 8.2 seconds before fouling Trey Galloway. Galloway made both 61-57 and secured a fourth straight win.
Outstanding Actor
Jackson-Davis was dominant again, finishing with 25 points, 21 rebounds and six blocked shots. He became the program's absolute leader in blocked shots after tying up Jeff Newton in Michigan State's game.
Stats that stand out
Indiana finished the game on a 7-0 run, not conceding a point past Minnesota's final 3:20 of the contest.
Final IU individual statistics

Final tempo free stats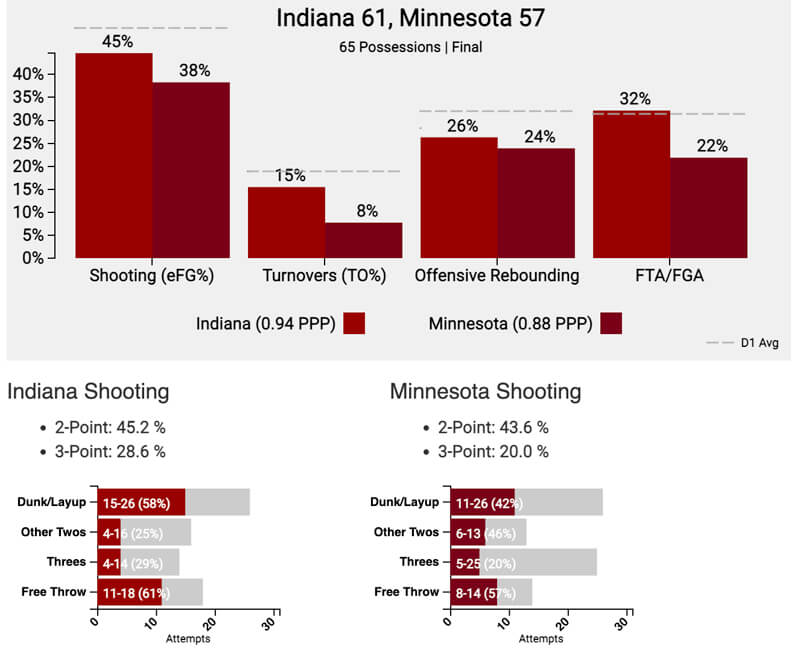 Assembly Call Postgame Show
(Image credit: IU Athletics)
Filed by: Minnesota Golden Gophers