Florida
Much of Florida's eroding coastline is at risk of home collapse. Why is construction still going on?
Successive hurricanes left an unsettling scene on the Florida coast in November 2022: Several homes and even swimming pools dangled over the ocean as waves eroded the land below them. Dozens of homes and condos in the Daytona Beach area have been deemed unsafe.
The destruction has raised a troubling question: How much property on the rest of Florida's coast is at risk of collapsing and can it be salvaged?
As the director of iAdapt, the International Center for Adaptation Planning and Design at the University of Florida, I have spent the last two decades researching climate adaptation issues to answer these questions.
Rising seas, aging buildings
Living by the sea in Florida has a strong appeal – beautiful beaches, ocean views and often pleasant breezes. However, there are also risks that are exacerbated by climate change.
Sea levels are projected to rise an average of 25 to 35 cm (10 to 14 inches) on the US East Coast and 35 to 45 cm (14 to 18 inches) on the Gulf Coast over the next 30 years as the planet warms. Rising temperatures also increase the intensity of hurricanes.
With higher sea levels and larger storm surges, ocean waves more easily erode beaches, weaken seawalls and submerge cement foundations in corrosive salt water. Along with subsidence or sinking land, they make life on the coast more risky.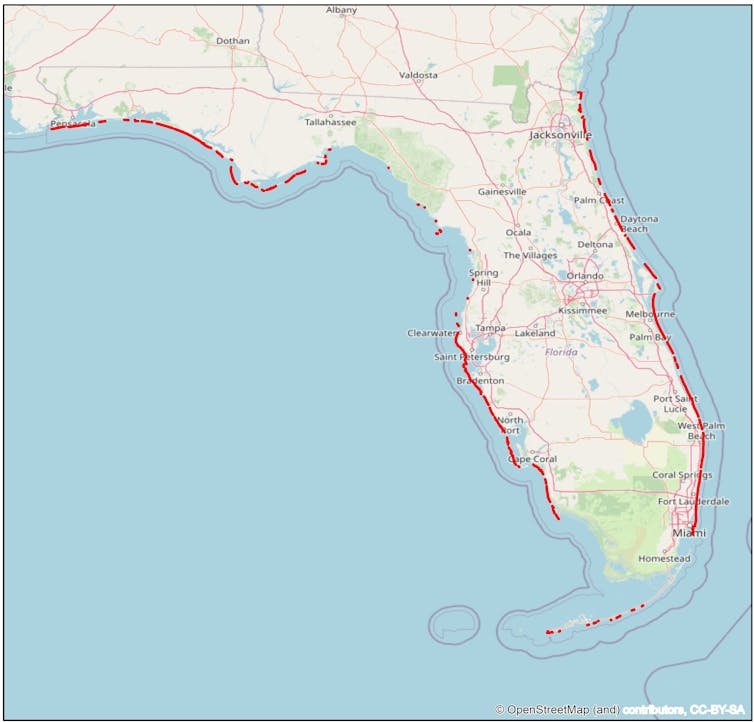 The risk of erosion varies depending on the soil, geology and natural coastal changes. But it is widespread in the coastal areas of the US, especially in Florida. Maps produced by Florida Department of Environmental Protection engineers show that most of Florida's coastline is at critical risk of erosion.
Aging or poorly maintained buildings and levees, as well as older or poor construction methods and materials, can dramatically increase risk.
Design better building codes
So what to do to minimize the damage?
The first step is to build sturdier buildings and strengthen existing buildings according to advanced building codes.
Building codes change over time as risks increase and construction techniques and materials improve. For example, the design criteria in the Florida Building Code for South Florida changed from some new buildings required to withstand sustained 146 mph winds in 2002 to 195 mph winds in 2021, meaning a strong Category 5 hurricane.
The town of Punta Gorda, near where Hurricane Ian made landfall in October 2022, showed that homes built to the latest building codes have a much better chance of surviving.
Many of the buildings in Punta Gorda were rebuilt after Hurricane Charley in 2004, shortly after the state updated the Florida Building Code. When Ian struck, they survived with less damage than those in neighboring towns. The updated code required new construction to withstand hurricane-force winds, including shutters or impact-resistant window glass.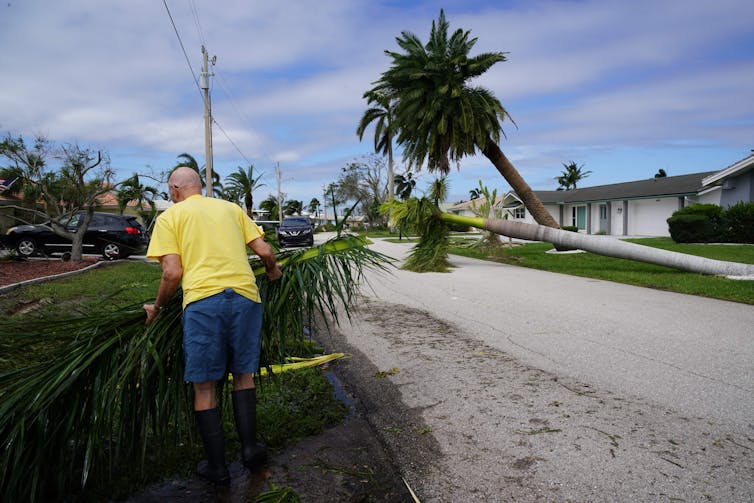 But homes built to the latest codes can also be vulnerable, as the codes do not adequately consider the environment in which buildings stand. A modern building in a low-lying coastal area could be damaged in the future by sea level rise and shoreline erosion, even if it meets current floodplain height standards.
This is the problem that coastal residents faced during Hurricanes Nicole and Ian. Flooding and erosion, compounded by sea level rise, caused most of the damage – not wind.
The dozens of beach homes and condos that became unstable or collapsed during Hurricane Nicole in Volusia County may have originally looked good. But as the climate changes, so does the coastal environment, and a hurricane could leave the building vulnerable. Hurricane Ian damaged seawalls in Volusia County, and some could not be repaired before Nicole struck.
How to minimize the risk
The damage in the Daytona area in 2022 and the deadly collapse of a Surfside apartment tower a year earlier should be a wake-up call for all coastal communities.
Data and instruments can show where coastal areas are most vulnerable. What is missing are policies and enforcement.
Florida recently began requiring that federally funded contractors conduct a sea level impact study before beginning construction of any coastal structure. I believe it's time to apply this new rule to all new builds, regardless of the funding source.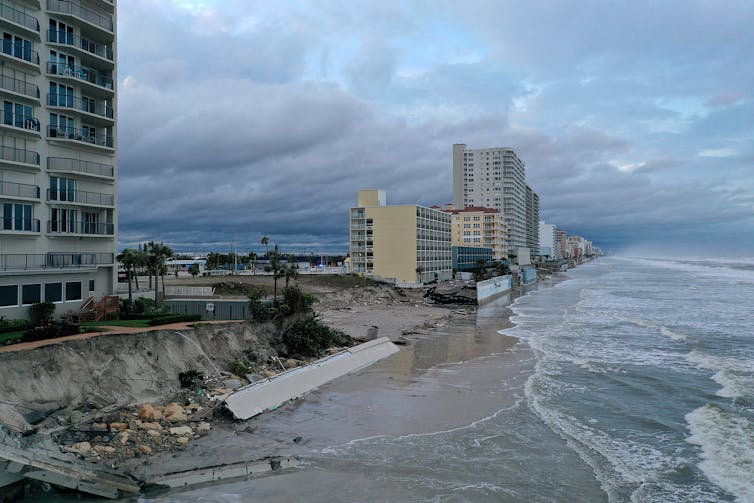 A comprehensive study of sea level impacts should also allow for risk-based enforcement, including prohibiting construction in high-risk areas.
Similarly, vulnerability assessments – particularly for multi-storey buildings built before 2002 – can verify the integrity of an existing structure and help identify new environmental risks from sea level rise and beach erosion. Prior to 2002, building standards were low and enforcement poor, so many of the materials and structures used in these buildings are not up to today's standards.
What Owners Can Do
There are a number of techniques homeowners can employ to protect homes against flood risks.
In some places, this may mean raising the house or upgrading the property's grade to allow surface water to run away from the building. Installing a sump pump and remodeling with storm-proof building materials can help.
FEMA proposes other measures to protect against coastal erosion, such as B. the filling of beach sand, the strengthening of dikes and the anchoring of the house. The technique can help communities, at least temporarily, through levees, ponds, and increased drainage. But in the long term, communities need to assess the vulnerability of coastal areas. Sometimes the answer is a move.
However, there is a worrying trend after hurricanes, and we see it with Ian: lots of money is pouring into many damaged areas to rebuild in the same vulnerable places. An important question for communities to ask is: If these are already in high-risk areas, why rebuild in the same place?

Zhong-Ren Peng is Professor of Urban and Regional Planning at the University of Florida.

The conversation arose out of deep concern about the declining quality of our public discourse and a recognition of the crucial role that academic experts could play in the public sphere. Information has always been an essential part of democracy. It's a social good, like clean water. But many now find it difficult to trust the media and experts who have researched a topic for years. Instead, they listen to those who have the loudest voices. These uninformed views are reinforced by social networks that reward those who spark outrage instead of insight or thoughtful discussion. The Conversation wants to be part of the solution to this problem, raising the voices of real experts and making their knowledge available to all. The Conversation airs every night at 9 p.m. on FlaglerLive.
---
Previous conversations: