games
Minecraft: update 1.20 allows you to customize your armor
Mojang is gearing up for update 1.20 and armor will finally be customizable.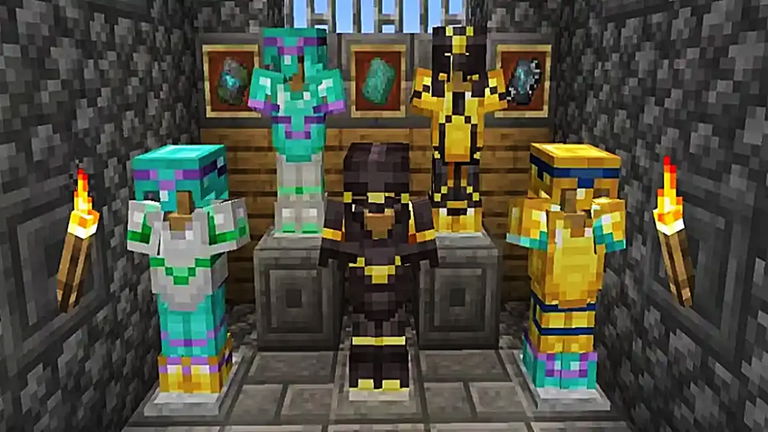 Minecraft armor
Join the conversation
It's no news for fans of Mojang's most popular game that the upcoming 1.20 update will bring some major changes that the company says will transform the open-world experience. However, although the introduction of spectator mode delighting the majority of users for its great utility, this is not the only surprise that the game brings to its fans.
In this sense, Mojang has confirmed this armor adjustment It's finally coming to Minecraft. And that's great news, as the community has been requesting this update for years, and it looks like they'll finally grant their wish when the update hits Minecraft sometime in the near future.
Since its launch in 2011, developer Mojang has released major updates on a regular basis. The last major update, Minecraft 1.19, was called The Wild Update and was released in June 2022. The update featured a variety of new creatures, biomes, blocks, and items that would breathe new life into the game. While it's not known if there are any plans for a Minecraft sequel, if updates of this magnitude continue, it's safe to assume that it still has a long-awaited lifespan.
In a series of images released on the official Minecraft website, players will get a first look at what armor customization looks like. Initially they will only be armor decorations, adding basic designs to previously basic armor sets. Players have always been able to dye armor in Minecraft, but this update will take it to new heights. While the designs aren't the most complicated, it's still a step up from what players can currently use in-game, so any updates are welcome. Minecraft armor has always been functional, but now it can also be trendy.
The post in question describes it in great detail how players can customize their armor. The ornaments come in 11 different patterns that players can color in 10 different colors. Ornaments can only be used when the player obtains a Blacksmith template, a new ingredient players need to upgrade Blacksmith. Rather than just adding the decorations to the game, Mojang weaves them into the existing content, making it seem like it was part of the game from the start. Players have long speculated as to what the Minecraft 1.20 update would entail, and it's good to finally have a clearer picture as more announcements are sure to be on the way.
Of course, said update is a perfect example of why Minecraft still entertains hundreds of millions of users active more than a decade since its inception. Armor has long been a neglected part of the game, and rather than ignoring fans who wanted an update, Mojang listened. They've been doing this consistently since 2011, adhering to fan demands to ensure much of the player base is as happy as possible. Obviously they can't please everyone, but Mojang does a good job of getting close.
If you still do not know the sandbox completely, in the following link we leave you a guide that can be very useful.
Join the conversation