Racing
Mikaela Del Giudice – Trainer/Owner/Marketing Manager for Blue Chip Farms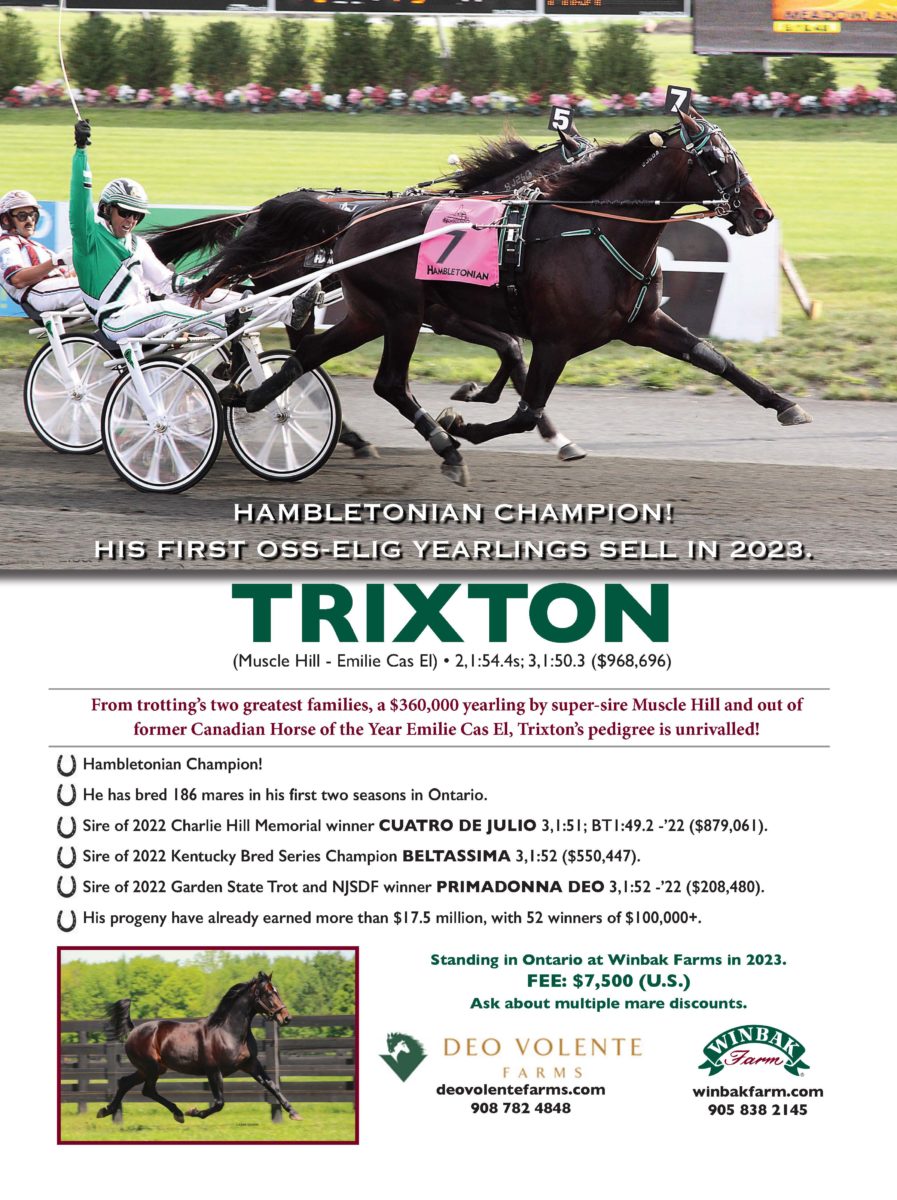 by Victoria Howard
While attending high school in Minnesota, Mikaela Del Guidice took a job at the DeLong Stable.
Working from top riders Jay and John DeLong and learning the ins and outs of trotting was something completely new for the young girl.
By then, Del Guidice had been showing Arabians, and although she had been involved with horses since childhood, racing was a little outside of her comfort zone.
Del Guidice was born in Scandia, MN, a town about 10 minutes from Running Aces Casino and Racetrack, which opened in 2008.
"I am the first generation in sport; Although my grandfather used to jump the fence at Saratoga Raceway to watch the races when he was a kid," Del Guidice said, laughing. "I guess you could say horses and racing are in my blood.
"Running Aces only runs during the summer months, so working in the barn in the summer was a great job for a high school kid."
In 2012, the summer after high school, Del Guidice got a job with rider Rick Magee.
"I took online courses from Oregon State University and received my bachelor's degree," said Del Guidice. "I chose to continue my education online as it gave me the freedom and opportunity to travel, race horses and still complete my degree.
"I remember riding shotguns on my way to the race at Maywood Raceway while finishing a bio-chem exam or writing a statistical analysis paper, and I've been involved in the sport full-time ever since."
And that's an understatement, because Del Guidice does it all.
Typically, Del Giudice spends her winters at Meadows Racetrack in Washington, PA where she engages in all things horse and sport related.
"I train, groom and own racehorses," she said. "I also have a marketing business and handle all marketing for Blue Chip Farms. I love being in all sorts of harness racing roles."
Last year, Del Guidice took another gamble at a horse sale in Harrisburg: she bought her first colt, named Verified Blue Chip.
"Verified blue chip is my first baby," Del Guidice said. "The stallion has done everything right so far. But you know that anything can happen on this exciting but unpredictable journey."
Del Guidice recalled her most exciting time in the sport.
"It's very simple," she said. "That's when my horse, Margin Call, was charging across the field and charging from last to first at a open trot on running aces. Race announcer Darin Gagne knew how much I loved my horse and made the race so exciting. I never get emotional when I win races, but there were definitely tears in the winning circle that day."
"Another exciting memory was last year when I won my first training win with my horse Zanetti. It was my very first start in training. What a thrill."
As for her favorite horse, Del Giudice had no hesitation in answering.
"That's definitely my open trotter margin call," she said. "It's a whole story in itself. I got him as a yearling and promised him he would be with me forever. He was the most difficult horse to get to a trot [and keep on the trot] but he was incredibly talented and the most beautiful horse you have ever seen.
"One day he kind of broke his leg in five places while out in the fields. The vets said he would never let go again [alone] be a racehorse and told me he had to be put down. I'm not one to see a horse suffer, but deep down I just knew he would overcome all odds. Today Margin Call enjoys his life galloping in the pasture and is "King of the pasture".
Del Giudice has ridden at Running Aces, the Minnesota and Wisconsin Fair Circuit, Maywood, Hawthorne, The Meadows and Pocono Downs.
Del Giudice is an up and coming trotting contender and something the sport badly needs. She is dedicated, hardworking, ambitious and an absolute horse lover.
"I have sent many horses that could not run to New Vocations, and in a more unofficial capacity, I have helped many riders place retired horses into loving local homes," said Del Giudice. "Having connections in the surrounding equine community really helps. One person in particular is a well known radio personality here in Minnesota who actually adopted two former Running Aces racehorses that he and his family adore."
What are Del Giudice's hopes and aspirations?
"I want to continue training at a smaller level and look forward to the future of my 2 year old; but my main focus is marketing and blue chip farms. They have been extremely good to me and I believe in going where you are most valued."