Cycling
Inspiring walking and cycling events come to Morecambe Bay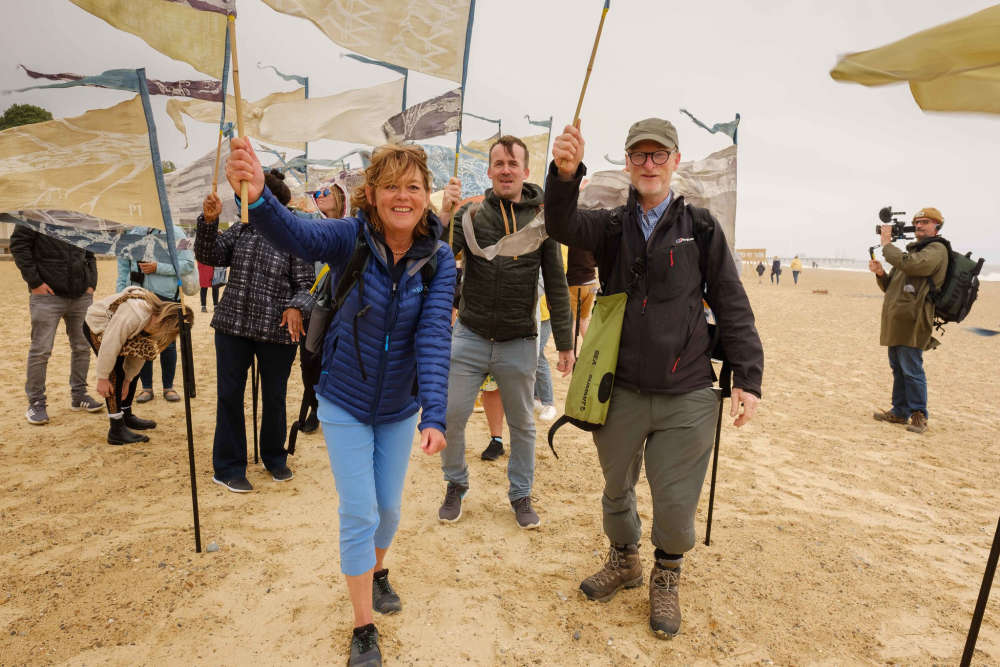 Credit: Kinetika/Rosa Productions
The Ways Around The Bay initiative launches later this spring bringing two new creative and interactive assignments to Morecambe Bay.
The events aim to inspire people to explore the area in a low-carbon way.
Morecambe Bay Partnership is collaborating with internationally renowned arts organization Kinetika in partnership with Kendal-based Rosa Productions for Bay Lines – Beach of Dreams, an investigative environmental arts journey that will get people to walk, talk and record along the seafront while Everybody's Cycling gets people cycling for 7 days of exciting activities for those who don't typically have the opportunity or confidence to ride a bike.
Bay Lines will present two interconnected events – the Baywide Visual Arts Journey taking place in June, with an associated community, storytelling and digital project, both leading to a series of public events in late August.
Inspired by the Beach of Dreams program initiated by the same team led by Ali Pretty in 2021, Bay Lines – Beach of Dreams will have a specific focus on Morecambe Bay, utilizing cycle lanes and public footpaths. Artist-led "collective walks" will take place in June to collect color materials, images and stories from the landscape, followed by a "Natural Dye" artist residency between July 29th and August 6th and workshops led by the Kinetika- Artist Lesley Robinson.
Bay Lines will be part of the national program Beach of Dreams 2025, which will culminate in a collaborative journey of around 10,000 miles along the coast across the UK and Ireland, led by Kinetika and Creative Lives.
During May and June, locals are invited to tell stories about every mile of shoreline around the bay and to contribute to designs for silk pennants, which will be made by Kinetika with local participants, reflecting each mile of the natural environment of the shoreline, sand and water reflect estuaries.
Four events take place across the bay over the August bank holiday weekend, with a finale in the Morecambe area when beach pennant installations form a stunning display for all to enjoy alongside other site-specific outdoor performances to celebrate the bay as a place of exploration.
In contrast, Everybody's Cycling brings seven days of interactive taster cycling events to the Bay with the aim of raising the level of cycling in partnership with local schools and community groups, culminating in a weekend of cycling fun for all. Based primarily in the Morecambe area with bike test rides and free 'Bike Doctor' sessions, there will be a range of conventional and unique bikes to ride, including those adapted for people with disabilities.
The sessions are designed to give people the skills and confidence to either start cycling or get out more and take advantage of all the benefits that cycling brings such as: B. Better health and well-being.
Sarah Mason, Managing Director of the charity, said: "We are delighted to be partnering this year with Kinetika, Rosa Productions and Everybody's Cycling, who are all experts in their fields. You will do a fantastic job helping us raise the profile of Morecambe Bay as a great outdoor destination, whatever your level of ability or interest.'
The events are part of the launch of Ways Around The Bay, a program aimed at establishing Morecambe Bay as a hub for walking, cycling and exploring the bay in a low-carbon way. The initiative creates a more inclusive approach so everyone can enjoy the inspiring landscapes, nature, history and culture of the Bay. The program is funded by the Department for Leveling Up (Coastal Communities Fund) through the South Lakeland District Council.
Full details of the event program and participation will be announced in spring.