The country recorded 20,139 new COVID cases on Thursday, up 19.12 percent from Wednesday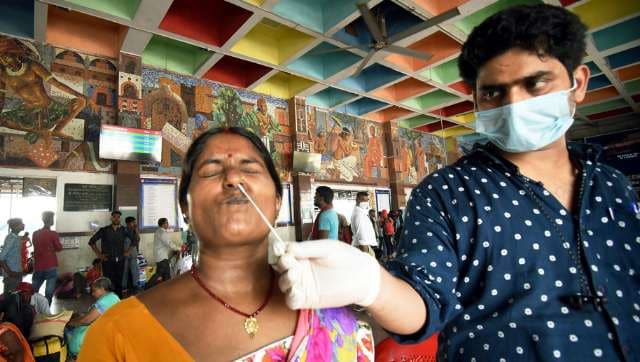 A healthcare worker takes a swab sample from a woman in Patna Junction. ANI
New Delhi: India has reported 20,139 new cases of COVID-19 in the past 24 hours, the Ministry of Health and Family Welfare (MoHFW) said Thursday morning. New infections reported today are 19.12 percent higher than the 16,906 cases logged yesterday.
The country reported 38 deaths in the past 24 hours, bringing the number of COVID-19-related victims in the country to 5,25,557 (5 lakh 25,005 57).
It is worth noting that India recorded over 20,000 new COVID-19 cases after a gap of 145 days, or almost five months. Cases reported today have brought the country's coronavirus tally to 4.36.89.989 (4 crore 36 lakh 89 thousand 9 hundred and 89).
The daily COVID-19 positivity rate rose to 5.10 percent today, up from 3.68 percent on Wednesday. The weekly positivity rate was 4.37 percent.
States reporting the most new COVID-19 cases
West Bengal has seen a rapid rise in new COVID-19 cases. The state has reported 2,979 new cases, up 320 from the previous day.
Maharashtra added 2,575 new coronavirus cases in the past 24 hours. Mumbai alone recorded 383 COVID-19 cases.
Tamil Nadu recorded 2,269 new COVID-19 cases on Wednesday, with Chennai registering the highest of 729 cases among all districts in the state.
COVID-19 deaths in India
Of the 38 new deaths reported in the past 24 hours, 16 were from Kerala, 10 from Maharashtra, four from West Bengal, three from Delhi and one each from Assam, Bihar, Goa, Uttarakhand and Uttar Pradesh.
Active COVID-19 cases in India
India now has 1,36,076 (1 lakh 36,000 and 76) active COVID-19 cases. In 24 hours, the number of active COVID-19 cases has increased by 3,619 cases.
The country's active cases account for 0.31 percent of the total infections.
India's recovery from COVID-19
The Union Department of Health said 16,482 patients have recovered from COVID-19 in the past 24 hours, bringing the total recoveries to 4,30,28,356 (4 crore 30 lakh 28,003 56).
The national recovery rate is now 98.49 percent.
COVID-19 testing in India
According to the Indian Council of Medical Research (ICMR), 3,94,774 (3 lakh 94,000 and 774) COVID-19 tests have been carried out in the country in the past 24 hours.
Up to 86,81,64,348 (86 crore 81 lakh 64 thousand 348) samples have been tested for COVID-19 since the pandemic began, according to the council's data.
COVID-19 vaccination
On Wednesday, the government announced the administration of a free COVID-19 booster dose for everyone over the age of 18 from July 15 for the next 75 days.
According to the Health Ministry update, 13,44,714 (13 lakh 44,000 714) doses of the COVID-19 vaccine have been administered in the country in the past 24 hours.
India started the nationwide COVID-19 vaccination campaign on January 16, 2021 and since then more than 199.27 million vaccine doses have been administered to eligible beneficiaries.
With contributions from agencies
Read all Latest news, Trending News, Cricket News, Bollywood News,
India News and entertainment news here. follow us on facebook, Twitter and Instagram.