Illinois
Full speed ahead for Illinois Railroad Museum's new research center, more streetcar tracks – Shaw Local
A 1950s diner, then a row of brick facades and a converted 1851 train depot overlooking an empty field. Half a mile of tram tracks leading to unfinished road works.
It's the beginning of a reinterpreted story that the staff and volunteers at the Illinois Railway Museum are trying to tell on their vast Union campus, a story about America's past and perhaps its future.
"The museum has a story to tell about how ingrained trains were in American culture 50, 100 years ago," said museum board member and civil engineer Zach Ehlers. "These trains were an integral part of small town America. That's how people connected before cell phones and the internet."
The Illinois Railroad Museum of the Union, which celebrates its 70th anniversary this year, has a planned expansion that aims to transport visitors back to such a time and place that, when completed, will feature a 1950s Midwestern thoroughfare with an old movie theater will include , an additional mile of streetcar track, and the Chicago & North Western Historical Society's new archival center, museum officials said.
The schedule for all of this work remains in flux as technical and architectural renderings for the Main Street project are underway, and once those are complete, the museum will begin fundraising later this year, Ehlers said.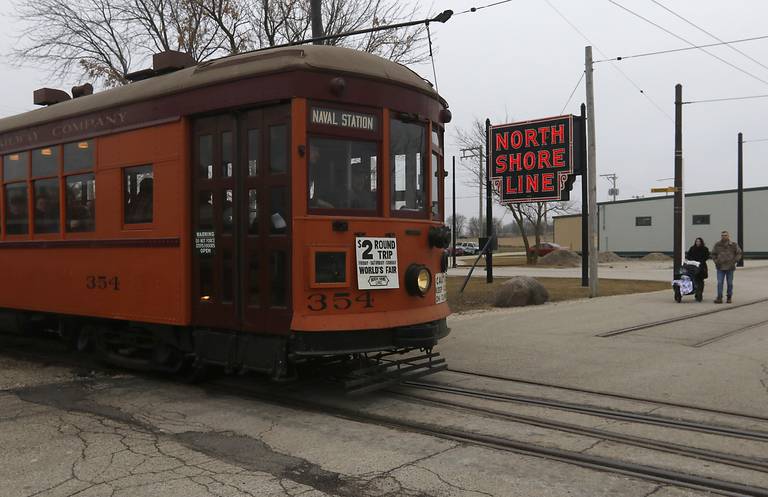 "We don't have a five-year plan," said Marcus Ruef, the museum's founding coordinator and chair of the special events planning committee. "Everything will be completed when resources allow. We hurry and we know how important it is to improve the site."
The museum also has pieces of track for a record player that they plan to install later, Ruef said.
Meanwhile, the anniversary events began last Saturday with a celebration of the North Shore Line, which connected Chicago to Milwaukee. Other special events Ehlers is said to be on the lookout for this year include a trolley parade on July 1 featuring over 70 cars and a special museum showcase weekend that will feature trains — some of the museum's rarer diesel and electric equipment — about will drive at night.
The museum's campus — full of sheds housing hundreds of locomotives and railcars — is a celebration of railroad history, but it's also a reminder that so many of these locomotives and their lines clearly live in the past, Ruef said.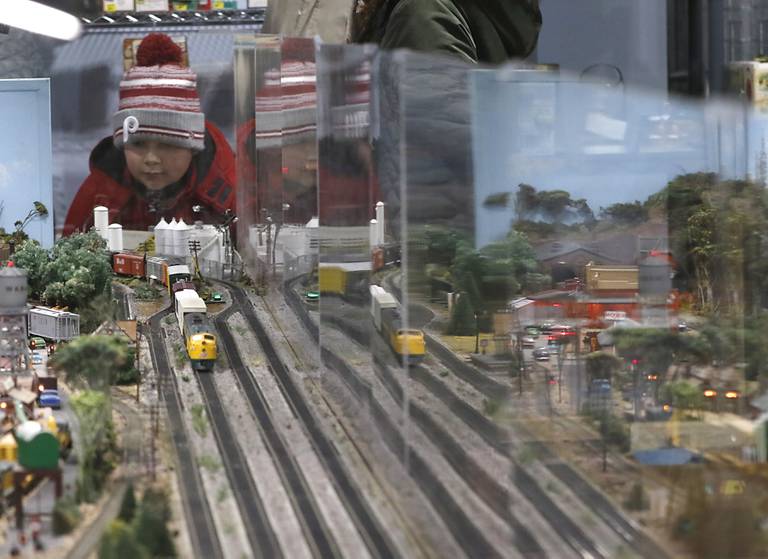 "The Midwest was the epicenter of America's interurban network," Ruef said. "And what people don't know about Chicago is that the Metra that we see today is just part of the system, a much more robust rail system that melted away before the RTA (Regional Transportation Authority). Chicago still has an extensive network, but it's nothing compared to what it used to be."
The museum itself has undergone several developments, said the facilities' general manager, David Diamond.
Originally, in 1953, it was located along the now-defunct North Shore Line. When the museum's collection of trains grew too large for the location, it was moved to its current location in Union, then farmland, and tracks were laid in 1964 to bring trains to the current location, Diamond said.
Ruef said that both visitors and staff are fascinated by trains, either by the locomotives themselves or the intricate tracks and infrastructure that have been created for them. Ruef himself worked in the railway industry for over 50 years and during his time as an engineer operated some of the engines now in the museum's collection.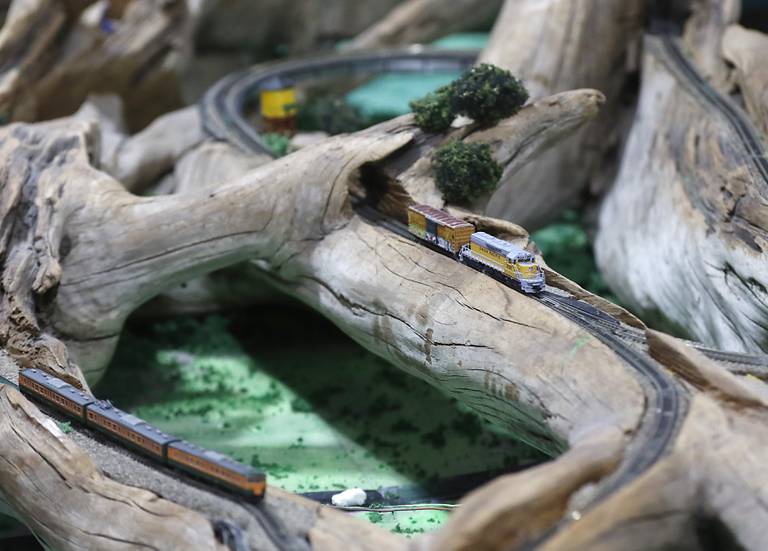 Ehlers remembers riding the Metra with his grandmother on Chicago's South Side as a kid on their daily commute downtown. This, along with Thomas the Tank Engine, helped foster a lifelong appreciation for locomotives at Ehlers.
"Public perception of trains depends a lot on how they see them in their daily lives," Ehlers said.
Not all of the museum's trains are clearly from the past: While the museum's inventory dates back to the horse-drawn streetcars of the 1950s, the museum also has diesel locomotives and freight cars that are still in use today, Diamond said.
One of the staff's favorite locomotives is the North Shore Line's electric liner. The salmon-colored and teal locomotive served "electric burgers" on the Tavern wagon from 1941-1963 and had a second life with the Southeast Pennsylvania Transportation Authority serving the Philadelphia area before becoming a museum in the 1980s.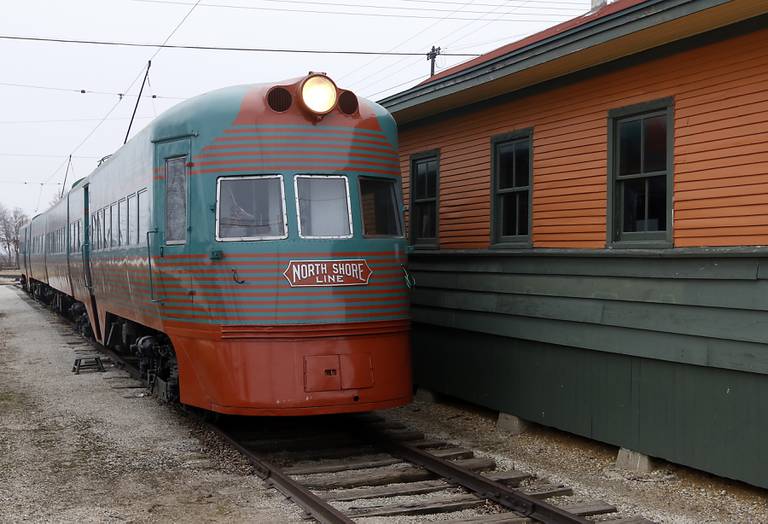 The demise of the railroads is not viewed by employees as a tragedy, Ruef and Diamond said, but as a complex combination of business decisions — private railroads close when they don't make money — and shifting cultural mores.
"The '50s and '60s were an era of 'It's all about me,'" Diamond said. "'I want to start my car. I don't want to take the train, it's slow." It was a different time. People were not as environmentally conscious as they are today."
Ruef also said the national rail network, which was almost three times larger than it is today at the turn of the 20th century, was being overdeveloped and the transition to taxpayer-funded rail networks was slow to save routes like the North Shore Line, which was effectively through cannibalized the Edens Expressway built in 1951.
A renewed interest in trains is gaining momentum in the Midwest, Ehlers said, and like the new track they plan to build on the museum campus, it may come full circle on trains' role in America.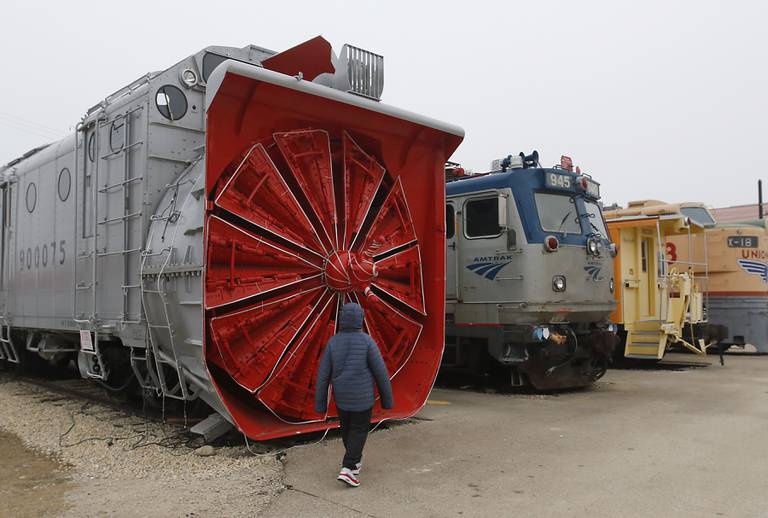 But despite an increased desire for more robust public transport, Ruef said he is skeptical that trains will make a regional comeback to the level of Europe or Japan.
"People will talk about why they don't have trains in the US like they do in Europe," Ruef said. "I said, 'Well, when you were in Europe, how often did you eat at Cracker Barrel?' They said, 'You don't have a cracker barrel in Europe.' Well, there you have it: you have nice hits, we have cracker barrels."