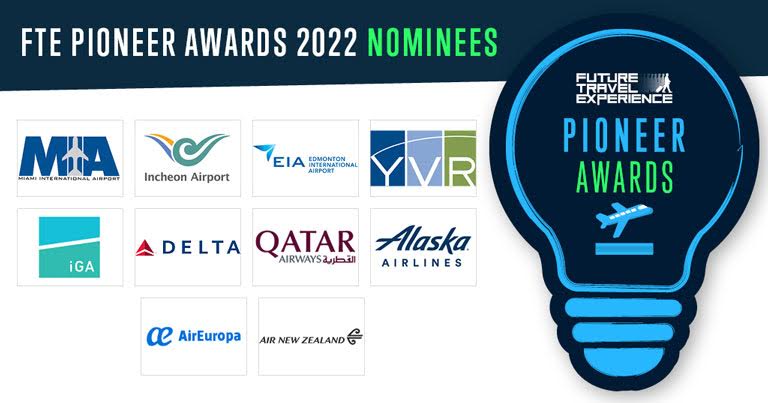 The shortlists for the 2022 FTE Airline and Airport Pioneer Awards have been revealed. Three airlines and three airports are named winners for their outstanding efforts to transform the passenger experience and define the future of the industry by breaking new ground such as Metaverse, NFTs, parallel reality, new cabin designs and new sustainable energy resources. The awards ceremony will take place on Thursday, September 8th during the FTE Global 2022 Networking Reception in Las Vegas. Here you can register to participate
Nominees for the FTE Airport Pioneer Awards:
Miami International Airport – biometric boarding at all gates
Miami International Airport (MIA) was nominated for its efforts to implement biometric boarding at over 130 gates throughout the airport. Installation is expected to be fully completed in 2023. When completed, the project will be the largest implementation of biometric technology at a US airport. With SITA's Smart Path solution, utilizing NEC's biometric identity platform, passengers simply step in front of a camera at the gate and their image is used to confirm their identity and eligibility to travel within seconds. MIA is now the busiest US airport for international travel, and biometric boarding is one of the key steps the airport is taking to pave the way for continued growth in the years to come.
Incheon International Airport Corporation (IIAC) – Metaverse Airport
Incheon International Airport Corporation (IIAC) has been nominated to develop the first Metaverse airport. The virtual airport, hosted on Roblox's global Metaverse platform, is designed to help passengers plan their post-COVID-19 trip and be well-informed on how to use the airport's smart check-in processes check-in more efficiently at Incheon Airport, including self-check-in. in, Self Bag Drop, Out of Airport Check-in and OneID Smart Pass.
Edmonton International Airport – hydrogen infrastructure in Canada
Edmonton International Airport (EIA) was nominated for its recent partnership with ZeroAvia to develop the hydrogen infrastructure needed to operate zero-emission flights and decarbonize ground operations. EIA will work with ZeroAvia to develop hydrogen infrastructure at both the main airport and Villeneuve airport. The partnership aims to explore the use of hydrogen for decarbonizing aircraft operations and also the broader airport ecosystem. As part of the collaboration, EIA and ZeroAvia will initially conduct a pilot program that will fuel a demonstration aircraft and other operations using the deployed hydrogen ecosystem. The next step will involve establishing some of the world's first commercial routes. The partnership expands an already impressive array of sustainability initiatives at EIA, including the construction of the world's largest solar farm at an airport, due to begin construction in late 2022.
Vancouver Airport Authority – digital twin platform
Vancouver Airport Authority (YVR) was the first airport to adopt a digital twin platform. The digital twin aims to improve the passenger experience and drive innovation outside of the airport's core airline business and become the region's "gateway to the new economy". The digital twin platform is a virtual, interactive, real-time representation of YVR's terminal and airfield. It is a digital tool that visualizes data and facilitates training, optimization, future planning, simulation, testing and more. By integrating sensors along with historical and real-time data into the platform, the digital twin can present key information through 2D or 3D visualization, enabling data-driven decision-making and collaboration.
Istanbul Airport – AR and Metaverse Experience
iGA Istanbul Airport was nominated for its efforts in artificial intelligence and metaverse exploration. Aiming to transform the time spent at Istanbul Airport, iGA launched a new service using Augmented Reality (AR) technology, providing passengers with information about the airport's retail outlets by guiding them through the International Terminal's shopping area. AR technology allows users to see objects virtually and in 3D, providing an interactive real-world environment. The airport has created a virtual character called CİGA, which accompanies passengers on their route, provides information about the shops, and offers passengers special offers and discount codes at member shops. The Airport is also tapping into the Metaverse by creating a Metaverse environment that is a replica of its "Youth Lounge".
Nominees for the FTE Airline Pioneer Awards:
Delta Air Lines – PARALLEL REALITY Technology
Delta Air Lines was nominated for its groundbreaking PARALLEL REALITY experience, now available to Delta customers departing and connecting at Detroit Metropolitan Airport. The PARALLEL REALITY display allows up to 100 customers to view their personalized flight information simultaneously on a single digital screen. Any customer who logs in can only see their flight information. This cutting-edge technology helps create a streamlined and personalized airport experience for customers, allowing them to navigate the airport with ease and eliminating the need to search the lines at a departure board for their specific flight.
Qatar Airways – QVerse and the world's first MetaHuman cabin crew
Qatar Airways' QVerse, a novel virtual reality (VR) experience for visitors to the airline's website, is a worthy nominee for the FTE Airline Pioneer Awards. The experience allows users to virtually tour and navigate the premium check-in area at Hamad International Airport (HIA), the interior of the airline's aircraft, including the award-winning Business Class, Qsuite and Economy Class cabins , by using their own personal electronic devices. The airline was also the first global airline to introduce a MetaHuman cabin crew that offers a digital interactive customer experience. The experience was developed using Epic Games' Unreal Engine, the world's most advanced real-time 3D creation tool, and MetaHuman Creator, a cloud-based app for creating high-fidelity digital humans. Named "Sama", the 3D human model offers an interactive customer experience by interacting with the user and taking them on a virtual journey of discovery while showcasing the unique features in both the business and economy class cabins.
Alaska Airlines – first US airline to introduce electronic baggage tag program
Alaska Airlines is poised to become the first US airline to introduce an electronic bag tag program later this year. The innovative electronic baggage tags allow guests to skip the step of printing traditional baggage tags upon arrival at the airport. Instead, guests can activate devices from anywhere—at home, in the office, or in the car—up to 24 hours before their flight using the Alaska Airlines mobile app. Activation is done by simply touching the phone used for check-in to the electronic baggage tag, which has an antenna that powers and reads the information transmitted by the phone. The guest's flight information will then be displayed on the E-Paper Baggage Tag screen. The program will streamline the check-in process and provide a more sustainable option for travelers.
Air Europa – the world's first NFT airline ticket series
Air Europa was nominated as the first airline to use blockchain technology for inventory management and distribution. The airline partnered with blockchain distribution company TravelX to launch the world's first NFT airline ticket series called NFTickets. With purchase, owners will have access to a special Air Europa flight to Miami Beach on November 29, 2022, as well as perks and events leading up to America's premier art fair, taking place in Miami Beach this December. Air Europa NFTicket's first collectible artwork has sold for over $1 million.
Air New Zealand – new cabin innovations for the B787 Dreamliner
Air New Zealand has made the shortlist with the launch of its new B787 Dreamliners, due to arrive in 2024, which are said to offer customers more choice and the best night's sleep in the sky, regardless of which cabin customers fly in "cabin the Possibilities", the new experience was driven from nose to tail by innovation. For economy customers, the Skynest concept, first announced in 2020, will be a world first. The new Dreamliners also offer a new Business Premier Luxe Suite and a new Business Premier seat. The airline has also added a Sky Pantry to Premium Economy and Economy cabins to allow customers to stretch their legs, eat and drink as they please throughout their journey. Sustainability was at the heart of the design process. By using advanced fabrics instead of leather, approximately one kilogram of weight has been saved per Business Premier and Premium Economy seat, reducing overall CO2 emissions. In premium cabins, the airline will also switch to 20% lighter serviceware, which will help reduce carbon emissions, and in economy class, the new serviceware will reduce plastic tableware used on board by 28 million per year.
Register today for FTE Global 2022 >>