games
Execs In The Know's Customer Response Summit (CRS) features diverse CX leaders and conversations in Austin, TX, Aug. March 2023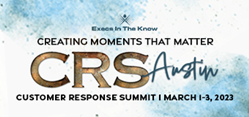 "The dynamic lineup includes some of the world's most admired brands and the CX leaders who lead them, including Nationwide, Marriott International, Turo, St. Jude Children's Research Hospital, United Airlines, Roblox, Phillips, woom Bikes and more."

PHOENIX (PRWEB)
January 24, 2023
Execs In The Know, the global leader in customer experiences (CX), is bringing the Customer Response Summit (CRS) to Austin, Texas. The highly anticipated event will be held March 1-3, 2023 at the JW Marriott Austin and will provide an opportunity to explore "Creating Moments That Matter" with a community of CX leaders.
The focus of the summit is on PASSION for Customers, the POWER of Technology and PURPOSE Driven Leadership. CRS is the place where leading CX leaders and their teams learn, connect and engage through inspirational keynotes, panels, case studies, idea sharing and peer-to-peer networking events.
With an agenda designed for leaders driving the conversation about CX, customer service and the challenges the industry is currently facing, CRS Austin is punctuated by moments that really matter.
"Once again – and to our delight – we return to Austin," said Chad McDaniel, President of Execs In The Know. "We are thrilled with the world-class, all-star cast of speakers and panelists who come from diverse sectors to share their expertise, insights and experiences. Part of working in this industry is imagining what could be and exploring the possibilities."
Attendees will discover fresh perspectives on the current and future CX landscape, with insights from speakers who are setting new standards by driving the industry one experience at a time. The dynamic lineup includes some of the world's most admired brands and the CX leaders who lead them, including Nationwide, Marriott International, Turo, St. Jude Children's Research Hospital, United Airlines, Roblox, Phillips, woom Bikes and more.
In her keynote, "Passion on Purpose: Why Great Leadership Is Driven by Passion," Jasmine Green, Vice President of Enterprise Customer Solutions and Enablement at Nationwide, will share her principles on why passion must be woven into every aspect of CX. Wilfred Busby, Senior Vice President of Employee Experience at St. Jude Children's Research Hospital, will explain how a culture of empowerment and engagement paves the way for operational excellence.
Additionally, Julie Weingardt, Chief Operations Officer at Turo, the world's largest carsharing marketplace, will take center stage to explain why the power of customer obsession goes beyond customer centricity. Shannon Patterson, Senior Vice President of Customer Engagement Centers at Marriott International, is passionate about how putting people first leads to seamless guest experiences, happier customers and brand loyalty.
Be sure to check out the CRS Austin agenda page for a full rundown of what's happening each day of the event. Registration for the event is still open and you can even sign up for email updates on sessions and future CRS events to stay connected as each event approaches.
To find out more about how you can join us in the 'Live Music Capital of the World', take a moment to visit the events page, or find out what to expect when you attend by visiting Watch a brief highlight reel from Exec's In The Knows last live CRS event, CRS Coronado.
To keep up to date with future Customer Response Summit events and all other CX thought leaders, sign up for our mailing list: https://execsintheknow.com/stayintheknow/
Nearest CRS stops:

September 20-22, 2023: Customer Response Summit – Nashville, TN
Share the article on social media or via email: