Swimming Pool
Ewing's Bossio Brothers Help Lead Notre Dame Swim Team | Ewing Observer
When Gavin Bossio was a young diver for PASDA's now-defunct Ravine swim team, big brother Owen was a swimmer on the same team. During a meeting, Ravine was missing a swimmer on one of their relay teams.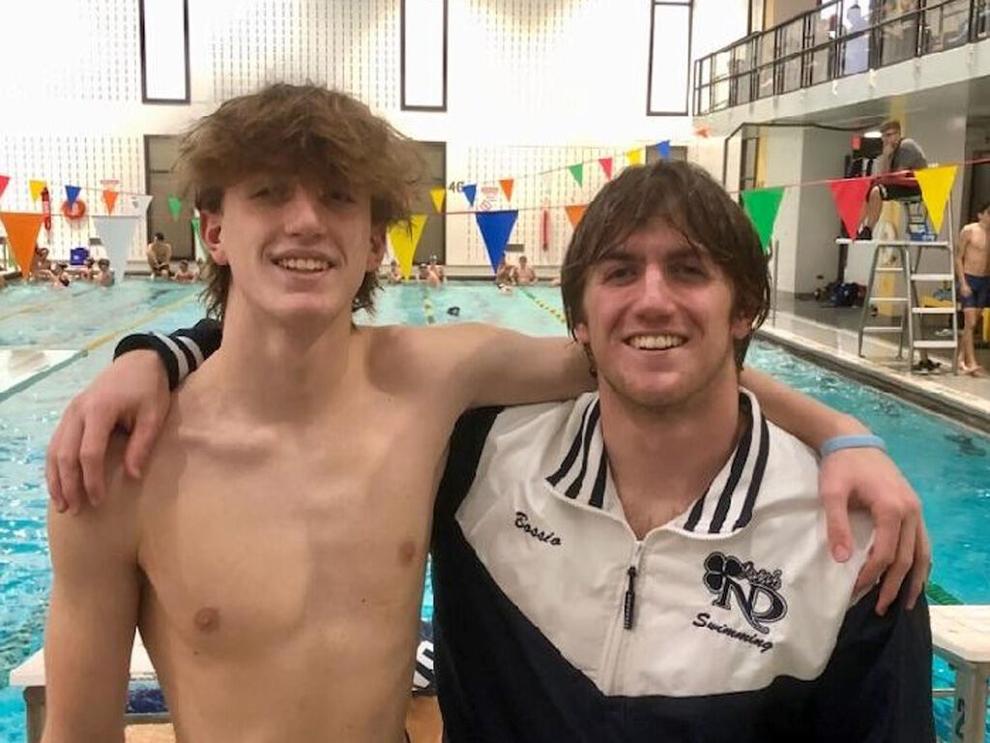 "We tricked my brother for fun," Owen recalled. "It was his first real competitive experience ever. He tried his best but it was a tough watch. But he tried as hard as he could. In the end it was fun."
Actually, Owen didn't think it was all that funny. "I had no idea what I was doing," he said. "I just knew I had to go from end to end and that was my first exposure to competitive swimming."
He agreed with Owen that it was a "rough watch".
"Absolutely," he said. "I finished the race and I cried and everything."
What sounds like a sad story actually has a happy ending. Flash forward and the Bossio brothers, from Ewing, are two of the top swimmers on a Notre Dame High swim team that went 9-1 on Jan. 19.
Despite Gavin's unfortunate debut, it forced him to give up diving and take up competitive swimming. Instead of wading into the pool and starting out with an unpressurized team like Ravine, he immediately went to the top-tier Eastern Express Club team.
"When I got on the Express, I didn't see myself as a swimmer," Gavin said. "It was definitely nerve-wracking, I was nervous. But I knew how Owen had progressed at Express, so I had high hopes for myself."
Owen walked from Ravine to the Express. His father Joe suggested the 10-year-old take up competitive swimming after losing to his son a few times in the pool.
"We were always playing around, having fun in the pool, and one day my dad said, 'I'm not passing you anymore, you should try competitive swimming,'" Owen said. "My dad said I jumped right in, I loved it. It was so much fun. I felt like I could achieve anything with the sport."
His confidence contributed to Notre Dame, where he became a mainstay in the lineup as a freshman.
"Knowing the success of Notre Dame before I got there, I was definitely nervous," Owen said. "I thought I was a second row guy, not really in the middle of the race. But I went in and realized I could really go for it and get an early start. It surprised me, but when I saw the opening I went right after it and worked my butt to get there.
Bossio didn't have a set race that first year, as he swam five different individual disciplines and all three relays. He produced in every race and finished first in six individual races. A year later, Owen became primarily a breaststroke and also completed IM, backstroke, fly and 200 free. He won four times, taking eight seconds and four thirds.
It was around this time that swimming was taking its toll as Owen was beginning to feel the symptoms of burnout. He enjoyed the Notre Dame experience and didn't want to give that up, leaving Eastern Express for the lower-level Lawrence Swim Association "to just really enjoy the sport."
"I took advantage of focusing on mental health and just tried to move away from swimming," he said. "It's often so serious with high school and club and it's often about work and all those hours in the pool. With summer swimming I was able to loosen up, have fun and still perform at a good level, but enjoy it."
It was a necessary step; because without them, Bossio might have given up the sport.
"I was approaching that area where I would dread swimming training (on the express) all day," he said. "The love of sport kind of disappeared. If I kept swimming and continued for both teams, I don't know if I could enjoy Notre Dame and the team as much as I enjoy the sport.
"I took the time to reset myself, clear my mind and try to find the love for the sport again and luckily I did. I think this is the most enjoyable year I've ever had in swimming. Even though it's not my best statistical year, I'm still having an absolutely amazing time with the team."
Gavin said that "everyone noticed his brother's growing disinterest in swimming," but added, "Last year he started dropping the times again, especially at the MCTs (Mercer County Meet). Everyone was happy for him. He came out of the pool after a breast and had his head in his hands crying that he was so happy. It was definitely a great thing for everyone."
Just as great for Gavin was having Owen on the team when he arrived at Notre Dame last year.
"Having an older brother definitely helped me get to know some members of the team. So it wasn't that nerve-wracking when I joined," Gavin said. "He knew everything; helped me with the experiences. It was nice to have a little guide in the first year."
The brothers are very close, and the bond grew stronger when they became high school teammates.
"Gavin is my best friend, I love him from the moon and back," Owen said. "We absolutely push each other. There have been many times Gavin has beaten me in a particular race or my personal best. I was like, 'It's time to get that Big Brother thing back, I'm Big Bro, I gotta be good at this stuff.'
When Gavin joined ND last year, the two became a formidable duo. With Gavin swimming breaststroke, flies, 50, 100 and 500 clear, 200 IM and all three relays, and Owen breast, IM, flies, 50, 100 and 200 clear and all three relays, the two combined for 41 first place finished, 29 seconds and six thirds.
Owen reached the A-Cut finals of the Mercer County Championships in the 50 free, breaststroke and 200 meter relay, finishing first in the relay, fourth in the breaststroke and fifth in the 50. Gavin finished 13th in the fly and just barely missed the B-cut. and finished eighth overall in the 200 IM. He finished second, just 0.03 seconds behind the winner of the B-Cut race.
Through the first 10 meetings this year; the bossios have teamed up to swim in all three seasons and every single event; after they teamed for 40 firsts, 19 seconds and five thirds. Gavin was a top-three finisher in all 29 of his races and only finished third twice in that span.
Needless to say, Notre Dame coach Henry DeSandre is grateful to Mr. and Mrs. Bossio for their contributions to his program.
"In Owen's early years, his main focus was IM and breaststroke," DeSandre said. "Last year we were able to focus on sprints, especially the 50, because we had a gap that we needed to fill. So he stepped on the plate and made it great. We can lead him in many directions until he fills the meeting.
"He loves the Notre Dame swim very much. He and James (MacIsaac) were both strong man leaders. I can't say enough about Owen and what he brings to the team as a young man."
Unsurprisingly, he has the same motoric mouth when it comes to Gavin, who has been recovering from a shoulder injury that kept him away from the pool for two months. He didn't return to the Express until June and had to slowly work his way back to keep the shoulder from flaring up.
"He's committed to the team, he's very enthusiastic, he's very pro-high school swimming," the coach said. "He is also a service provider. He can move in many directions for us. Especially on non-freestyle shots. He's another one doing a great sprint in the 50's. It's not our main line with him but he has the quality to follow in those footsteps when we need him too."
DeSandre is excited to see how much Gavin can improve over the next two years. After that, the younger brother hopes to continue his career in college.
"I dabbled in recruitment to get my name out there," he said. "I don't see that changing. I've had the injury bug my whole career and I haven't quit yet, so I don't want to give it all up when I go to college. I want to keep that. Be it Division One, Two, Three or even JUCO, I would love to swim at any college."
Owen's college future looks decidedly different as he claims this senior season will be his last in competitive swimming.
"I've really thought about it a lot over the last year or two," he said. "I just think it's better to go to college for an education and plan the rest of my life. If I loved the sport as much as I did when I was young, I would absolutely love to swim in college right now. But collegiate athletics is something of a different job, the commitment that it takes is very high. Personally, I don't see this commitment as something worthwhile."
Luckily for Notre Dame, both bossios felt the high school swim was definitely worth it.