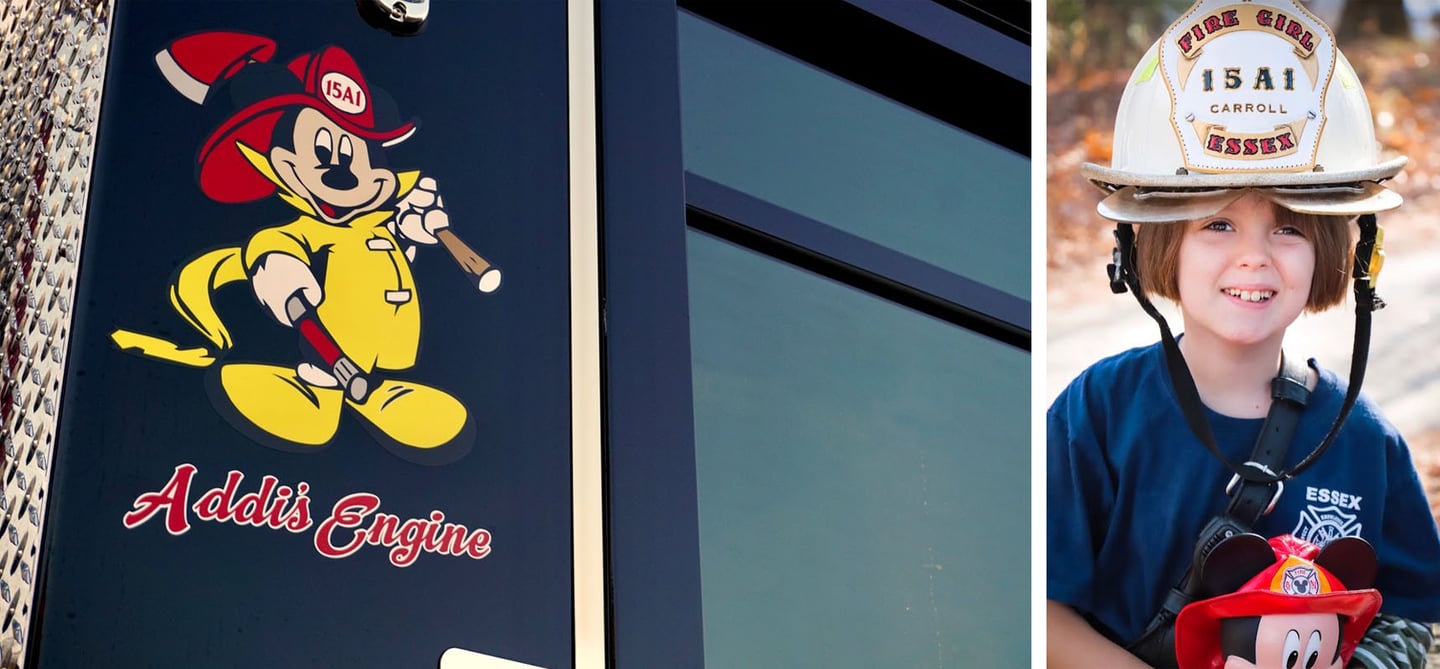 When volunteer firefighters from the Essex Vermont Fire Department responded to a call for the past six years, they knew a young girl in their community was thinking of them and awaiting their safe return. They can just look at their newest fire truck if they ever need a reminder of their presence and support. The truck is called "Addi's Engine" but it was owned by Addi long before it officially went into service at the end of 2020.
Make a wish come true
Addi Carroll was born with a mysterious, previously unknown, deadly disease. In 2016 she applied to the Make-a-Wish Foundation for a backyard pool and as a special surprise, the Essex Fire Brigade turned up to fill the pool with their tanker. That day changed her life. "From the moment she met the members of the Essex Fire Service, she fell in love with the fire service," said Addi's mother, Tammy Carroll.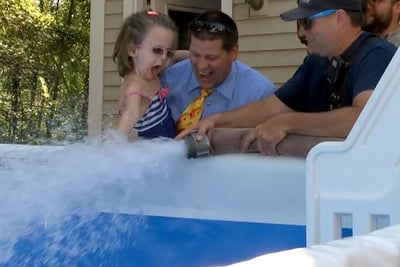 The feeling was mutual. "As soon as we met her, our entire fire service loved Addi and adopted her as one of us," said Essex Fire Brigade Chief, Charlie Cole. "That day we started inspiring each other."
Addi often visited the fire station, and the firefighters were happy to swing by her house after duty calls to turn on the engine lights. For Christmas, they gave her a Fireman Mickey Mouse doll. She called it "Chief Charlie" and carried it with her everywhere. The fire department even gave Addi her own phone number and radio to listen to calls – Firegirl 15A1. "It's a bond that shows an incredible level of dedication," Tammy said.
The firefighters organized blood donations in Addi's honor and frequently posted about her on their Facebook page. But the biggest sign of the department's bond with their "fire girl" was yet to come.
Addi's engine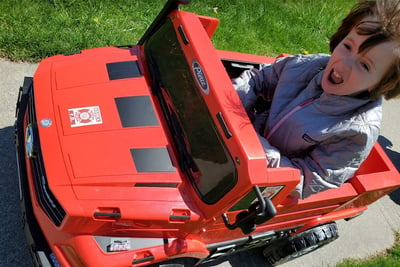 In 2020 Essex Fire Services worked with Pierce on a new Arrow XT pumper, the second of this model and the third truck ordered from Pierce. The truck is designed for rural areas, with hydraulic all-wheel drive and a large hose bed to cover areas without hydrants.
Because of the pandemic, the department couldn't visit the factory during production, so Pierce sent photos and videos of the progress. "Having our prior experience with Pierce and having a strong belief in the team gave us great peace of mind when we couldn't go to the factory," said Chief Cole.
The department forwarded the photos and videos to Addi's mother. "She watched them for hours," Tammy said. "It was delightful to see." Addi began referring to the engine as "my truck" and shared all the details with her doctors at Boston Children's Hospital. "All doctors would have to look at the pictures to know what happened to the engine."
"They involved Addi in every step throughout the production process," said Jason Henske, sales representative at Allegiance Fire and Rescue. "The fire department even did a Zoom call with Addis doctors to share details about the engine and their special relationship."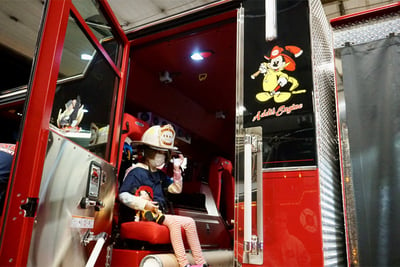 According to Chief Cole, naming the truck after Addi was a no-brainer. The department designed a logo featuring firefighter Mickey Mouse and the words "Addi's Engine". He said: "Since Addi needed weekly build reports and frequent pictures of the production process, we had to get crafty with our camera angles to make the truck's name surprise."
Addi and her family were at the station when the engine was delivered in November 2020. "She was very excited to see that the fire truck had a logo of her Mickey Mouse doll and her name," Chief Cole said. "We put her in the front seat and took her in the truck."
Henske had the honor of attending the reception. "Seeing her smile sitting in the truck with her helmet and Mickey Mouse doll was very special," he said. "This experience reminded our team that every day is a blessing."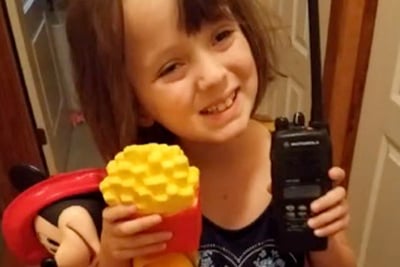 Addi followed the department's calls more than ever once the truck was put into service, her mother said. "She wondered, 'Did my engine stall?'" She even, with the help of her teacher, wrote a book about the experience, called, of course, Addis Motor.
"It's easy for a child with a life-threatening illness to become defined by that illness and lead an isolated life," Tammy said. But thanks to the Essex Fire Service, Addi defined himself as a firefighter. "She was a member of her team," Tammy continued. "It was amazing to see that she has that identity."
Addi continued to inspire her family, the fire department and the community every day. "She's had hundreds of dates out of state, far from the comforts of home, and yet she was clearly a kid determined to live a big and beautiful life," Tammy said.
A symbol of resilience and determination
Tammy finds the fire truck a visible symbol of her resilience and determination. "This fire truck will take care of Addi's firefighting family for many years and that means a lot. The truck is a representation of always watching over her firefighter brothers and sisters until they are safely back on station."
On Friday, June 10, 2022, Addi Carroll died peacefully in the arms of her parents at Boston Children's Hospital at the age of 12. In the final months of her life, she was surrounded by the love of her two sisters, Sam and Izzy, grandparents, best friends, Brynn and Max, and the Essex Fire Brigade.
"Addi left us the honor and responsibility to share her powerful story and to remind others to live big beautiful lives, don't hesitate to bring people together and help each other," Tammy said. "She never recognized a single unusual thing in her life, and she lived a more fulfilling life than most adults I've met. Her amazing medical team helped her make that life possible and her Essex Fire Service family helped her live it with unparalleled passion and determination."
Addi's Celebration of Life, Final Call and Last Bell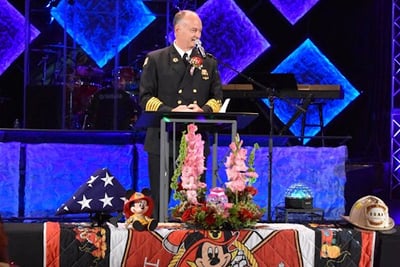 Addi's Life Celebration took place at the Essex Alliance Church and included many of her favorites including dance party music, disco lights and a reading of the book on Addi's Engine. It was also full of firefighting traditions. Chief Cole delivered a beautiful eulogy in which she shared memories of the incredible relationship between Essex Fire Brigade members and Addi, and reminded everyone of her rare ability to make a family of everyone she met. He was referring to a poem by Linda Ellis called "The Dash" and the meaning between our birth and death – the dash represents events that sum up our lives.
Essex Fire Brigade Chaplain Jason Ziter spoke about how we sometimes think about this timeline and use a magnifying glass to expand that line. He commented, "If we look closely at Miss Addi's stroke, we see many memorable moments."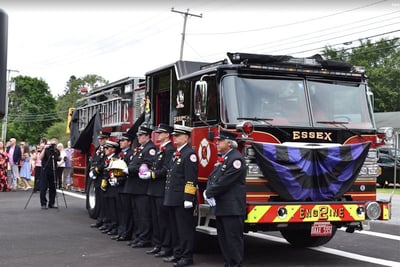 Following Addi's life celebration, the Essex Fire Service held a final call and bell ceremony for their firefighter, 15A1. The funeral procession, with traditional bagpipe accompaniment, closing alarm bell and final radio call, was followed by a reception for all family and friends at Essex Fire Station. Her fire brothers and sisters held a moment of silence and reflection that lasted fifteen minutes.
"Until we meet again… we always think of you, we still talk about you. You have never been forgotten and you never will. We hold you tight in our hearts and there you will stay to go and guide us through our lives until we meet again."
– Essex Fire Brigade
Memorial donations can be made to the Essex Fire Association or to support the Carroll family in their quest to meaningfully honor Addi's life.