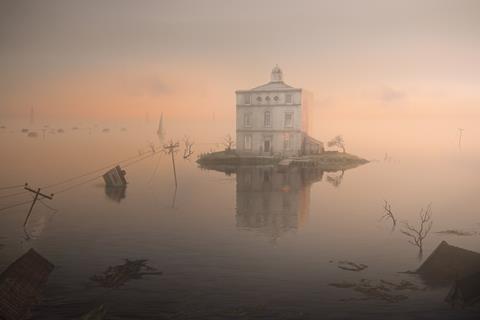 In the 18th century, a poverty-stricken household finds that their lives have changed when they are gifted an imposing house by a mysterious benefactor. In the present day, a hardworking real estate developer – who happens to be a mouse – is sidelined by his thwarted attempts to sell his luxury renovation. And in the near future, a feline landlady finds that both rising tides and her fear of change are keeping her stuck in the increasingly dangerous place.
These mesmerizing vignettes look great The house, the stop-motion animation produced by Nexus Studios in London and Los Angeles and directed by four different filmmakers — Emma De Swaef and Marc Roels (Part I), Niki Lindroth von Bahr (Part II) and Paloma Baeza (Part III ) — which debuted on Netflix in January. However, the genesis behind such an ambitious project was surprisingly simple: bring these creative forces together and see what alchemy happened.
"The main driver was this idea of ​​bringing them around the table and seeing what came out of this collaboration," says producer and Nexus co-founder Charlotte Bavasso, who first reached out to the filmmakers the company has worked with on previous projects , in April 2019. "They had all dealt with similar themes in their films – deep, dark and intelligent subjects that they approached through the use of stop motion."
Bavasso knew she had to walk a fine line to ensure each filmmaker was given creative freedom and that the pieces were brought together into a cohesive whole. "I saw that as my main task in this project," she says. "For me it was crucial that we fully respect the individual authorship of these filmmakers and that each film should stand on its own. But we worked on an overarching concept and talked about the evolution of time. The house is practically a witness to human follies – though some of them are animals – across three generations."
"It was such a unique experience – it's not a way you normally work with other filmmakers to share different perspectives," says Baeza, who directed Part III of The house arrives while working with Nexus on a TV series adaptation of Poles Apart, her 2018 Bafta-winning National Film and Television School graduation short.
"Charlotte saw the things we have in common — that black humor and that absurdity," she continues. "Each of us has come up with a summary of a story that happened in the house. The different timelines arose organically; We went brainstorming and came back with the three stories that fit naturally into a past, present and future structure."
At that point, Bavasso approached Netflix with the project, and the streaming company immediately came on board. "We met in Annecy and talked about the project. I wouldn't even say it was a pitch, it really was a conversation and they could see we were so passionate," says Bavasso. "They knew the directors and saw their talent. They said it felt like a no-brainer. It was an easy collaboration because the trust they placed in us was immense."
Themes of climate change and humanity's relationship with the environment have informed much of Baeza's earlier work, but her original idea for The house was to explore a mother-daughter relationship. "Then I was watching a David Attenborough documentary and I saw a flooded street that looked incredible, with individual lots that looked like islands," she recalls. "I wondered who would stay and why. The idea developed while I was working with [screenwriter] Enda Walsh, and the house became more of a character."
The key to the cohesiveness that runs through the stories is the fact that Walsh was a co-writer hunger with Steve McQueen, wrote all three screenplays and worked with the filmmakers to develop their concepts into a 30-minute narrative. "We went through so many different versions," says Baeza. "We weren't afraid to try something and then throw it out completely and start over."
cat calls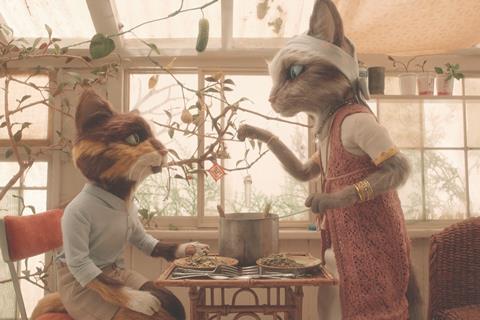 What was always present, however, was the idea that Baeza would tell her story with cats as characters – that Lindroth of Bahr's protagonist is a mouse is a happy coincidence. It centers on Rosa (voiced by Susan Wokoma), the landlady of a crumbling house who refuses to acknowledge the encroaching floodwaters. "I like anthropomorphization," says Baeza, whose Poles Apart tackles similar issues through the uneasy friendship between a polar bear and a brown bear. "It takes you a step further and allows you to be universal in different ways."
The starry vocal cast is another draw, with Helena Bonham Carter, Paul Kay and Will Sharpe among the voices for Baeza's story and the likes of Matthew Goode, Jarvis Cocker and Mia Goth performing elsewhere. "That's the silver lining of Covid-19," says Bavasso. "Live action was difficult, many projects were canceled. And everyone could see our ambition, the quality we were trying to achieve and understand what they were involved in. They all jumped in."
The directing teams were based in different countries – De Swaef and Roles in Belgium, Lindroth von Bahr in Sweden and Baeza in the UK – so it was always planned that most of the pre-production would take place remotely. This was also made necessary by the pandemic.
"We had been working like this for a month [prior to lockdown]' remarks Bavasso. "However, we wish we'd seen each other a bit more, and from a production standpoint, it added a whole new level. But I didn't want to shoot it in three different locations; I managed to make sure every one of them would be on set [at Mackinnon & Saunders studio in Altrincham, near Manchester]to make sure there is a symbiosis between the three."
This was also aided by the sharing of some key creatives, including Oscar-winning composer Gustavo Santaolalla (Brokeback Mountain, Babylon) and production designer Alexandra Walker, who created the central house which, although used differently in each of the stories, is recognizable throughout. "It's the staircase, the Georgian facade, but it's also about the tiny details like the beetle [a key feature of Lindroth von Bahr's vignette] under the floorboards of Paloma's story goes," says Bavasso. "It's always been about giving three artists the opportunity to explore their own stories and giving them a platform they've never had before. Netflix provides them with a potential 200 million viewers."
For Baeza, the impact of The house is not just its creative output, but the fact that it exists at all – and especially on a platform like Netflix. "There's always a balance between creativity and business in filmmaking, and you have to be realistic," she notes. "But when you get people brave enough to support something else, it's life-affirming."