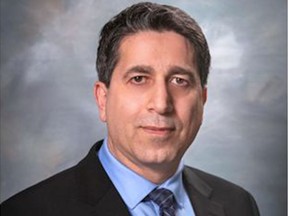 content of the article
Mask requirements have been lifted in most places since mid-March, and many people appear to have stopped wearing masks in public places, a decision the local health officer felt was appropriate.
content of the article
"Obviously we're not over the hill yet, but the level of risk that requires restrictions isn't there," said Dr. Ian Arra in an interview on Thursday, "and it is appropriate to relax restrictions, including mask requirements. "
People who need to be in a crowd or who have compromised immunity, which increases their risk of contracting illness from COVID-19, should wear masks, Arra said.
"When I see people wearing a mask in a public place, that's well and good. It's not required," he said.
But except in crowds or to feel more comfortable, he doesn't wear one in public, he said.
"At this point no. The pandemic is going in the right direction and all of those indicators I mentioned are reassuring."
The current Omicron variant poses less of a threat than the earlier Delta Wave of getting really sick, and now there is enough immunity in the community to be "reassuring".
The Gray Bruce Health Unit's online outbreak page showed seven recent COVID-19 outbreaks. Six other COVID-19 outbreaks have been declared over in the past seven days.
Outbreaks are currently occurring in retirement or long-term care homes in Hanover, Kincardine, Port Elgin, Owen Sound and Port Elgin, a community residential home in Kincardine and an acute care unit at South Bruce Gray Health Center – Walkerton.
Arra said the virus is spreading in the community but daily cases are averaging 10, down from 40 or 50 five weeks ago.
New cases aren't such a meaningful measure because only high-risk people are tested. However, the number of local intensive care units and hospitals has increased somewhat, but there is no significant threat of overwhelming the healthcare system, he added.
content of the article
"Premature deaths . . . deaths of people who would not otherwise die, other than from COVID infection, that hasn't happened," he said in recent months.
But local death tolls reported on a provincial website show a sharp increase since April 22, when 11 of the 66 deaths occurred in the area. But Arra said most or all of them happened to have COVID-19 but would have died anyway due to comorbidities.
It's also difficult to decipher a trend with those numbers when they're relatively small, like this one, Arra said.
As for long-term COVID, this remains a poorly understood threat and there are no public health measures it could impose to deal with it without knowing who is at higher risk of contracting it, said Arra.
"There is nothing else that a person can reasonably do to protect the population from long-term COVID over and above what we already have at this point," Arra said, other than masking in crowds and getting vaccinated .
Arra noted that only four of the seven current outbreaks are affecting retirement homes, and infection is expected there, since the "iron ring" around long-term care homes and other high-risk facilities has been lifted.
Gray County long-term care director Jennifer Cornell acknowledged the challenge is striking a balance between returning to normalcy and acknowledging the risk that COVID-19 still poses.
As of Thursday, Lee Manor had 11 residents and six staff in one area of ​​the home who have tested positive. Some residents are asymptomatic and others "feel quite hard". They are all supported, she said.
content of the article
"We continue to perform rapid antigen testing and screening daily, at every visit, every shift. We continue to have universal mask and hand hygiene, education and reminders," Cornell said.
"And at the same time, residents can take day trips and invite visitors, do small-group activities and try to get back to some of that normal life."
Michael Barrett, president and CEO of South East Gray Health Center, said the outbreak at Walkerton Hospital is the first at the four-hospital company since the pandemic began and is relatively small.
Three patients have been infected with COVID and all are coping well with the infection. The outbreak, which was reported on May 13, has been contained to the stationary unit, he said. He praised the commitment of the employees and their precautions to contain the virus.
Barrett noted that staffing is an ongoing challenge, but noted that significantly fewer employees are absent because they have contracted COVID or are in close contact with someone with the disease than when the staffing issues were raging reached their peak in April.
Finally, the province will lift remaining mask requirements in hospitals, medical clinics, nursing homes and places of assembly, including emergency shelters and prisons, on June 11.
On Thursday's provincial campaign trail, NDP leader Andrea Horvath announced she had tested positive for COVID-19, while Green Party leader Mike Schreiner tested positive Wednesday night, both using rapid tests.