Entertainment
DEAR ABBY: Readers refer to the widow's desire to make some changes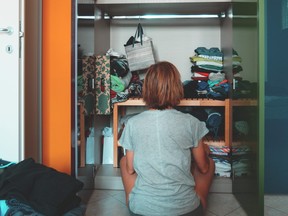 Reviews and recommendations are unbiased and products are independently selected. Postmedia may earn an affiliate commission from purchases made through links on this site.
content of the article
DEAR ABBY: "Unsure How To Feel" (January 24) was upset by the changes her sister-in-law made after her husband's death. Within months, the widow had given away the husband's belongings and begun making alterations to their home. I saw myself in this column. I unexpectedly lost my beloved husband at the age of 47. Every time I opened the doors it was painful to see his clothes and belongings in our closets. They were a constant reminder of what I had lost.
content of the article
After selecting some meaningful items, I also began donating his belongings to close family members and then to charities. When my daughter got angry, I realized that we all process our grief in different ways. She wanted to keep everything as it was. No reaction is wrong.
content of the article
And as far as redesigning the SIL goes, I did exactly what she did. For me it was a way to get my life back on track. My husband's death was shocking and heartbreaking. Having a project gave me something to focus on other than my grief.
I would like to ask your readers to PLEASE ease up with those going through the grieving process. It's a horrible experience. Everyone has to survive in their own way. Just because it's not your way doesn't mean it's wrong. —CATHERINE IN MICHIGAN
content of the article
DEAR CATHERINE: Thank you for your wise words. You are so true. Most of the readers who replied to this letter agree with you. Continue reading:
DEAR ABBY: To "Uncertain" I say: Your sister-in-law lived every day of her married life with your brother in the same house that she still lives in. You were probably no ordinary visitor. When my husband died, there were things in our house that I had to change in order to get through each day.
Our bedroom was number one. It may seem heartless to anyone other than a spouse, but I could no longer sleep in the bed we shared, in the room decorated in "his" style. I just had to make it my place; where I could go to find peace.
Your sister-in-law does not disregard your brother and his memory. She will always carry his memory in her heart as you do. But living in this space probably requires that she make it less of a constant reminder of the love she lost. — RUTH IN ILLINOIS
content of the article
RECOMMENDED VIDEO
DEAR ABBY: I lost my husband seven months ago and started clearing out his stuff almost immediately. Why would I want to look at his clothes every day? How does 'Uncertain' know her late brother's marriage was so 'good'? People thought that about me, but it wasn't.
A lot of the changes to the house (paint, etc.) are things he and I had discussed but he would never actually do. Change footage? Yes – not everything, but definitely some pieces that I never really liked.
"Uncertain" may have to deal with her own grief, but she wants her widowed sister-in-law to leave her alone. No one "erases" her brother, and his widow is under no obligation to be stuck in the past. — BEEN THERE THAT MADE IN CONNECTICUT
content of the article
DEAR ABBY: My husband passed away from cancer in December 2020. He was in hospice and died in our home as he wished. There was no way I could stay there. Within the next eight months I had remodeled and sold our house and moved to the small town where my son and his family live. Moving was the best thing I could do. I still mourn, but I don't regret anything I did. I know my husband would be proud of the choices I made. — NO REGRETS IN TEXAS
— Dear Abby was written by Abigail Van Buren, aka Jeanne Phillips, and founded by her mother, Pauline Phillips. Contact Dear Abby at DearAbby.com or PO Box 69440, Los Angeles, CA 90069.