games
CW LIVE: Julian Alaphilippe Responds to Patrick Lefevere's Criticism; Fabio Jakobsen wins in San Juan; stunning leadout data from Sam Bennett; Activist says cyclists should ignore red lights; BC hunts new sprint talent; Charlie Quarterman's "Nightmare Start"
Update
"Nightmare start" for Charlie Quarterman at the Vuelta a San Juan
Charlie Quarterman had what he called a "nightmare start" to his season at the Vuelta a San Juan after ending up in an ambulance on stage two yesterday after suffering from the heat.
"Being over my limit in 43C for too long cooked me too much and when I got tunnel vision from dehydration I couldn't hold out anymore so that was it," said the 24-year-old Team Corratec rider in one Instagram post.
The Oxford-born quarterman spent two and a half seasons on the WorldTour with the Trek-Segafredo team but was released in late 2021 and spent last year with Philippe Wagner's amateur team in France. The experience "taught me how to fight", he told Cycling Weekly last year.
Julian Alaphilippe dismisses criticism of Patrick Lefevere: 'It won't affect me'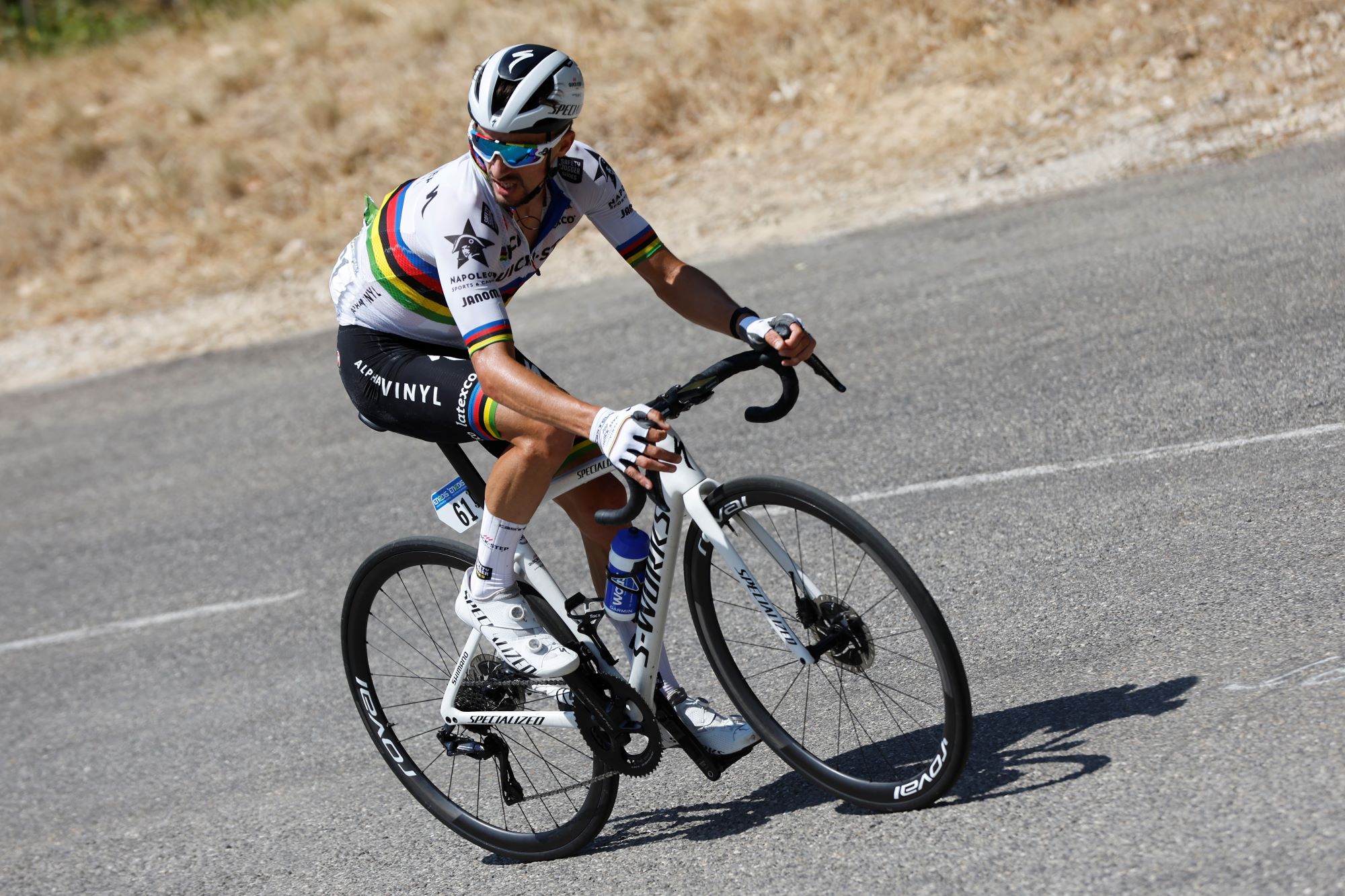 Julian Alaphilippe has dismissed criticism from his Soudal-Quick Step boss Patrick Lefevere, saying: "The comments he has made will not affect the way I work or my motivation for the season that starts for me tomorrow."
The former French world champion spoke before his appearance at Mallorca's Trofeo Calvia, the first in a series of five one-day UCI 1.1 races on the island, culminating in Sunday's Trofeo Palma.
Alaphilippe added: "I am focused on what I have to do as I have always been. I don't go into detail about the past few seasons, which didn't live up to my expectations, for a variety of reasons."
"LouLou" will compete alongside a strong Soudal team that includes Florian Sénéchal, Kasper Asgreen, Davide Ballerini and Brit Ethan Vernon sophomore.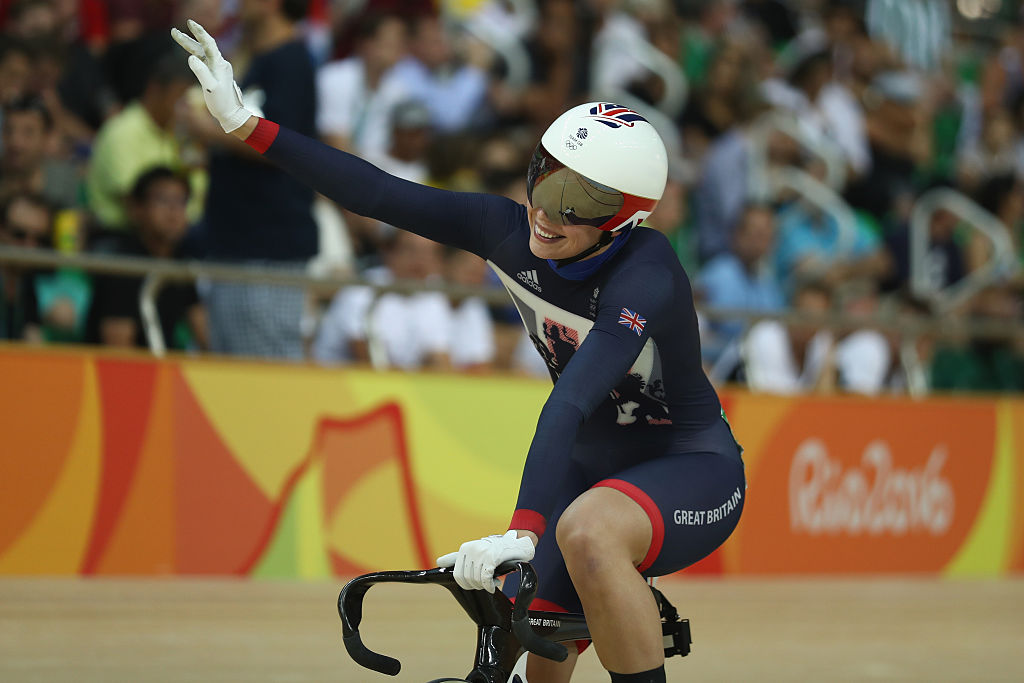 Imagine being the next star sprinter for Britain? The next Jason Kenny or Becky James? If so, an opportunity arises that will interest you.
British Cycling is launching a new Talent ID project next month with the aim of finding riders who can advance to the Talent Pathway and Performance Pathway in their quest for international success.
You must be born in either 2007, 2008 or 2009 and be eligible for a UK passport, but no racing experience is required.
Visit the British Cycling website and complete the registration form before February 24th for a chance of being invited to one of the Velodrome Test Days taking place here:
Derby (Sat, March 11); London (Sat, March 18); Bath (Sun 19 Mar) and Manchester (Sat 1 April).
Much luck!
If anyone can catch 'em all, it's this guy
So you thought you'd seen everything possible on a bike? Well we have news for you. A Taiwanese has taken things to the next level by turning his bike into a vehicle for a 64-screen Pokémon Go console, reports The Indian Express.
His front-mounted bank of 64 phones represents the bridge of the Starship Enterprise as he travels the neighborhood in search of rare Pokémon characters (very carefully, we'd assume).
He was introduced to the game by his grandson in 2016 but has already achieved celebrity status, having been known locally as Pokémon Go Grandad.
As one person rightly pointed out, this means "not taking your phone to a whole new level while driving or cycling".
TotalEnergies show off their yellow jersey dance moves at La Tropicale Amissa Bongo
Ambiance on the podium Signature au depart de la 2ème étape de la #TAB2023 🥳🕺🏻 GeoffreySoupe (TEN) Maillot Jaune @DiscoverGabon est chaud !!!💛🔥 C'est ça la #tropicaleamissabongo 🚴🏻‍♂️🌴#TropicaleAmissaBongo #TA Gabon 🇬🇦 pic.twitter.com/wdddBhdf3CJanuary 24, 2023
See more
The Vuelta a San Juan may be stealing the spotlight right now, but further around the globe the UCI 2.1 Tropicale Amissa Bongo is quietly going about its business in Gabon on the west coast of Africa – and GC leader Geoffrey Soupe loves him.
A post from the race shows him dancing on the podium ahead of today's morning stage (careful with those legs, Geoff!) – after which he kept the jersey.
So far, the TotalEnergies ProTeam has taken the lead, with Soupe winning stage one yesterday and teammate Jason Tesson contesting stage two this morning. Both finished in a mass sprint.
British interests are represented by Tom Portsmouth from Bingoal WB and Toby Perry from the EF Nippo development team.
The seven-stage race reaches its climax on Sunday.
Let cyclists through red lights, says Scots activist and charity founder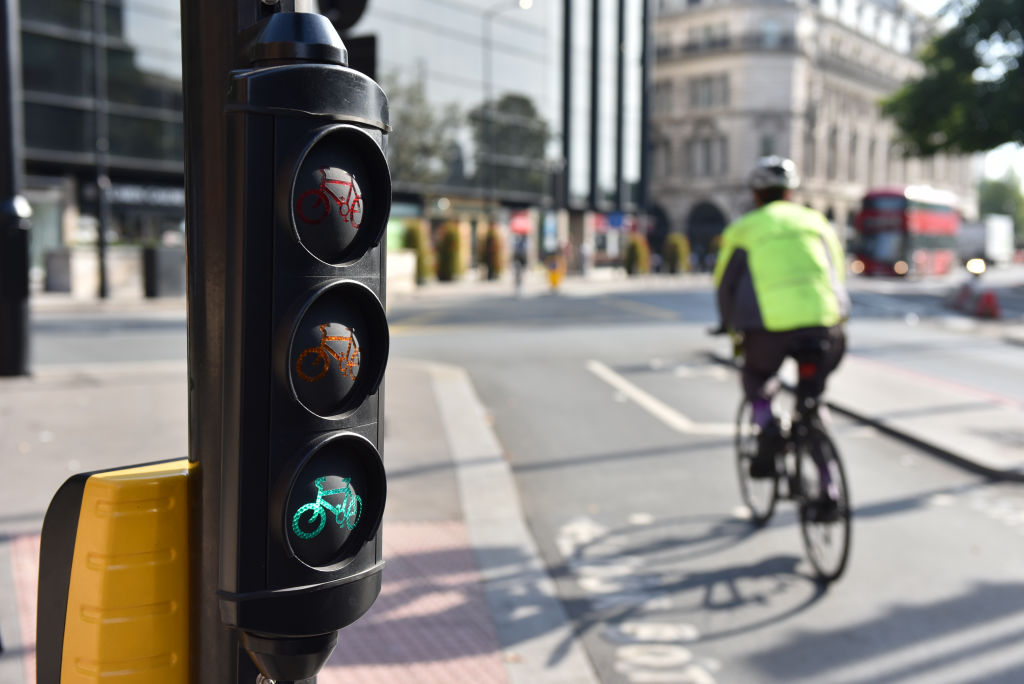 Scottish cycling activist Gregory Kinsman-Chauvet has called on the Scottish Government to follow France's lead and allow cyclists to use red lights at certain junctions.
Kinsman-Chauvet, who founded cycling charity Bike for Good, told Scotland on Sunday: "Having read various studies showing that removing the obligation for cyclists to stop at red lights improves safety, I have decided to test it myself.
"I had the opportunity to experience this last summer in Paris and Lyon and quickly felt a lot more confident on the road. At intersections, motorists knew to give way to cyclists and were more careful… It's time to rethink."
Campaign group Cycle Scotland has said it disagrees with Kinsman-Chauvet's ideas and that the French system is too remote from Scotland's to replicate.
The stunning facts and figures of Sam Bennett's San Juan lead us out
Have you ever wondered what exactly goes into a WorldTour team leadout – even so early in the season? Well, Danny Van Poppel provided the answers, courtesy of Twitter's own @ammattypyoraily.
The Bora-Hansgrohe rider's start of stage one at the Vuelta a San Juan to set winner Sam Bennett boasts some pretty impressive numbers.
In the 13 seconds he averaged 69.5 km/h (43.1 mph), 1,207 watts and a cadence of 109 rpm. Uff.
Here's the full story.
#VueltaSJ2023, Stage 1 Lead-OutDANNY VAN POPPEL (🏆 for Sam Bennett)• Time – 13 seconds 💥• Speed ​​- Average 69.5 km/h, max 71.1 km/h 💨• Power – Average 1,207W, max 1,504 W ⚡️• Cadence – Average 109 RPM , Max 114 RPM 🔃 pic.twitter.com/lA5IcanErIJanuary 23, 2023
See more
Lefevere takes on Alaphilippe and Asgreen and proposes 'cutting wages to zero'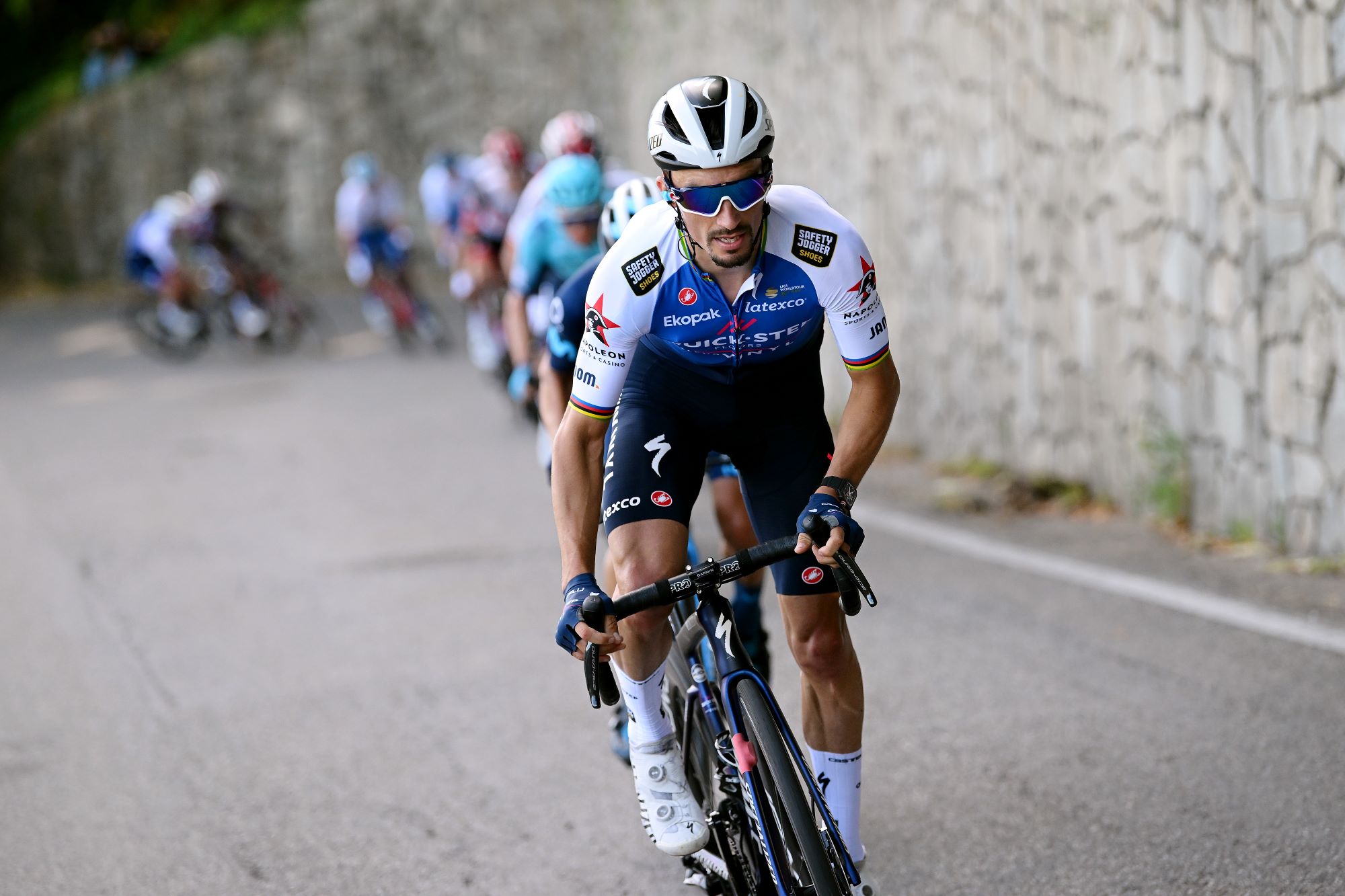 Soudal-Quick Step boss Patrick Lefevere is causing controversy again after delivering a smack to his drivers Julian Alaphilippe and Kasper Asgreen, as reported in Sporza.
Both suffered from missing results in 2022, largely due to premature crashes. But Lefevere said of former world champion Alaphilippe: "I told him I wasn't happy at all. I understand his illnesses and falls, but you can't always hide behind them. It was the cool truth.
"Everyone knows I don't attack injured drivers, but if there's a high price involved, then I can react."
As for Dane Asgreen, he crashed leading up to the Tour de France and although he said he was fit to ride, Lefevere was apparently unfazed at having to withdraw him after stage eight.
"Kasper hasn't raced since that day, but the money should be here by the end of the month."
Both are established Quick-Step riders who have given the team some big results over the years, but the recent lack of results seems to have prompted Lefevere to suggest teams should cut wages, to zero if necessary.
"As a team, you have the right to halve your wages after 3 months and go to 0 after 6 months."
"I've never done that before, but sometimes you should think about it," he said ominously.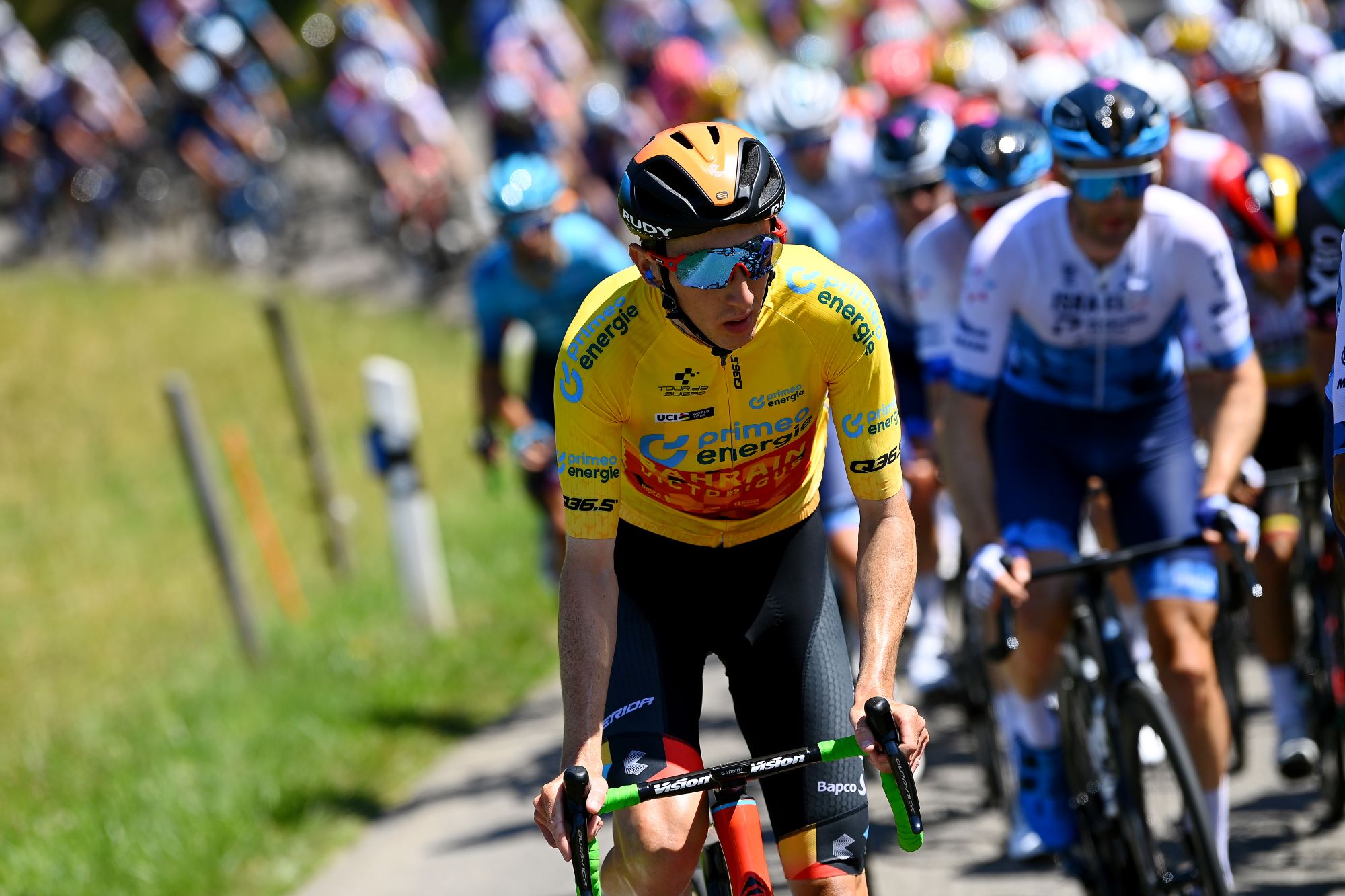 Welsh driver Stevie Williams has spoken about the collapse of the B&B Hotels team and his move to Israel PremierTech, saying: "I'm one of the lucky ones but I feel like I deserve to be here."
The 26-year-old made his debut for the team at the Vuelta a San Juan in Argentina, which started on Sunday and runs through Sunday, April 29.
"Luckily I was able to get something done before it all kicked off," Williams told sister outlet Cycling News of the deal.
"I had agreed to go B&B, it was all agreed over the summer, so it was definitely a shock and quite a stressful winter for me," Williams said. "It was just something I never thought I would have to go through. But I know it has happened before and most likely this won't be the last in cycling."
B&B Hotels, which were also set to compete against Mark Cavendish, collapsed in early December.
Fabio Jakobsen sprints to second stage win at Vuelta a San Juan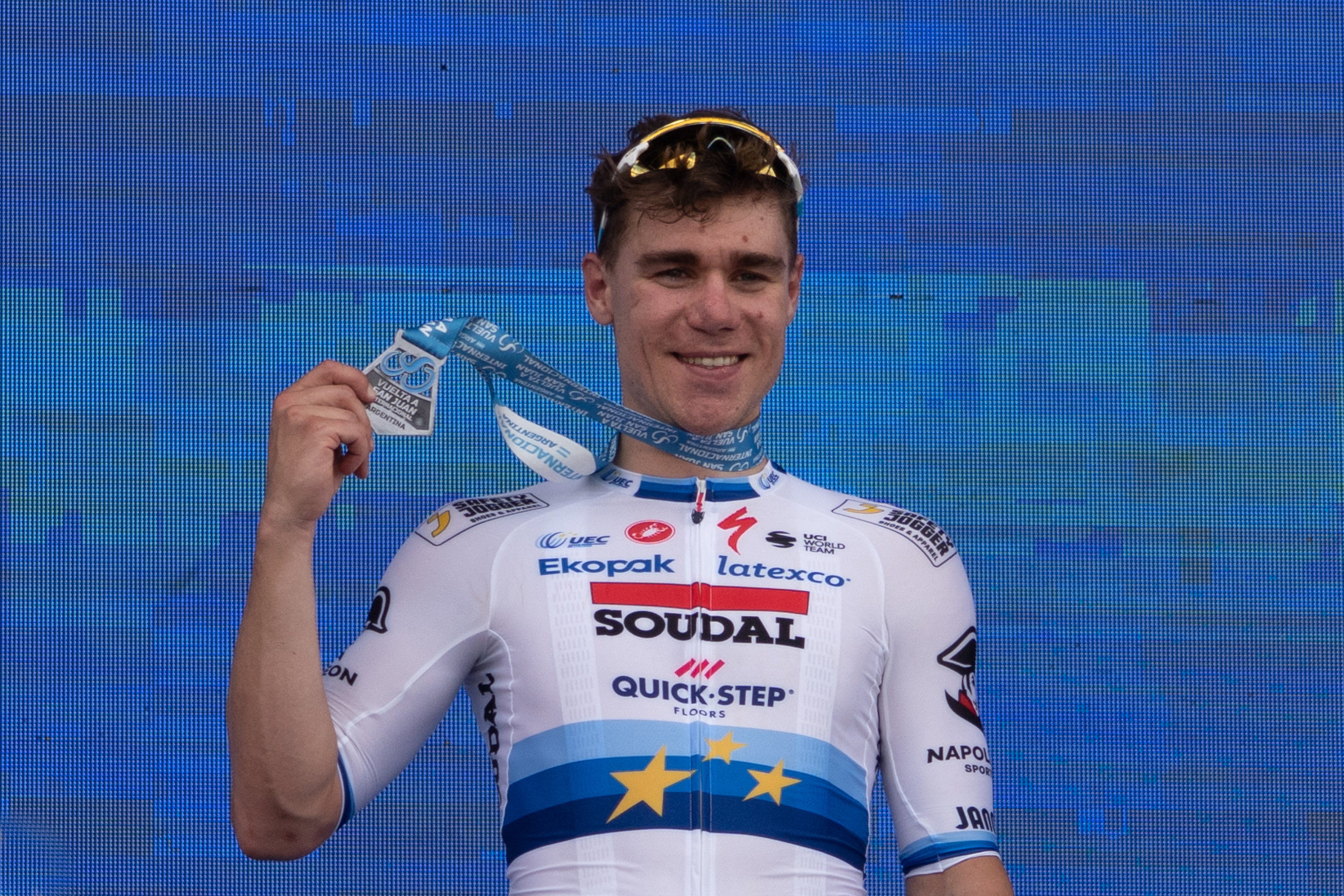 After a disappointing first stage of the Vuelta a San Juan where he finished 58th, Fabio Jakobsen (Soudal Quick-Step) bounced back to win stage two in Jáchal. The European Champion timed his kick perfectly to beat Fernando Gaviria (Movistar) and Jon Aberasturi (Trek-Segafredo).
It was Jakobsen's teammate Remco Evenepoel who set up the win as the World Champion pushed the peloton to its limits with 3km to go, ensuring his Dutch colleague was on pole and catching up on the day's break.
Sam Bennett (Bora-Hansgrohe), the winner of stage one, finished fourth and did enough to cling to the leader's jersey for another day.
"Yesterday was a very dangerous final I think, with a hectic and chaotic last kilometer," Jakobsen said loudly cycling news (opens in new tab). "But I spoke to the organization last night. They promised me the last 5km today would be safe and they delivered. It was a nice sprint for all trains and it was a fair sprint. I'm glad I had the fastest legs today and I was able to win.
"Remco is such a world-class rider, he basically brought Lampy with him [Yves Lampaert] until the last kilometer. Then Lampy and Morky [Michael Mørkøv] is the best combination, they put me down in the perfect spot and I know on a good day I have the legs to beat anyone," said Jakobsen, then smiled. "Putting it that way, it seems easy ."