Covid
COVID-related absences from workers at Sault Area Hospital are ebbing
Just 27 workers were down last week compared to 80 a month ago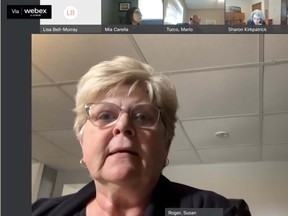 content of the article
Sault Area Hospital's staffing is "stabilizing" after COVID-related absences strained the facility for some time, SAH's board of directors heard Monday night.
content of the article
Just 27 staff members were out with a COVID-related illness last week, a "significant improvement" from about a month ago when more than 80 staff members were vacant, said Sue Roger, vice president of clinical operations and chief of nursing.
"So from a personnel point of view, it certainly feels better in the organization," Roger said of the virtual meeting.
The SAH now shares workers' COVID numbers with the Department of Health on a weekly basis, in contrast to previous daily reports, the most recent of which was filed last Wednesday and cited 27 workers.
"The organization has improved a lot," said Roger.
In April, directors heard that COVID-related staff absences from Sault Ste. Marie's main health facility was harsh, but not so severe that SAH had to resort to measures other Ontario health facilities have used, such as implementing a critical staffing model that requires asymptomatic positive employees to report to work. By early April, the number of staff absenteeism was in the mid-1980s, which Roger said was creating "organization-wide bottlenecks" at the time.
"We've had very tight staffing across almost every department in the organization, with changes in patient care models, extended hours for staff who are willing to work, and really a kind of stitching together, sometimes like a patchwork quilt, day in and day out." Roger said the board meeting in April. "But we managed to maintain the entire service and didn't close anything off from our patients."
content of the article
Roger said Monday the number of intensive care units across the province is improving, with 158 hospitalized patients with confirmed COVID-19 in intensive care on Monday, compared with more than 210 a month ago. Algoma Public Health reported a patient in intensive care with confirmed COVID-19 on Monday.
Also Monday, SAH reported 17 COVID-positive patients spread across units. A breakout on 3B continues.
"We were hoping to be past our first 10 days but we continue to have cases pop up," Roger said, adding that an additional case was committed on Monday.
"Even though we have improvements and people are getting out of COVID, we have new cases," Roger said. "We are working hard on 3B to try and contain any further transmission. However, we know that people can be negative on admission and become positive days later. So it is difficult to get a handle on this. But we are working hard on it and infection prevention and control is definitely with us."
There have been "pressures" related to the 3B outbreak: the unit is closed to admission and the number of patients in alternative care levels is increasing, Roger said.
A crisis expulsion offer is likely to be approved this week, she added.
Meanwhile, SAH is shouldering some supply chain issues, with officials "a little worried" about the supply of surgical gloves. Another supplier was sought, a delivery has now been scheduled for Tuesday.
"But that was a short-term gap and our buyers were able to fill that gap in a very timely manner," Roger said. "So we're lucky there."
content of the article
The supply of critical medicines has "always remained stable" throughout the pandemic.
"And I'm very grateful for that," said Roger. "While some things aren't great, there seems to be some reassurance and reassurance in the way we can get the job done."
Roger said SAH officers are working with Dr. Lucas Castellani, medical director for infection prevention and control, on the risk assessment for reopening and recovery and "trying to make some decisions about the risk and certainly how we're going to bring people back and hold events and fundraise." "
"I think that will be helpful as it evolves," Roger said, adding that news from the hospital's COVID-19 command center is likely to come in the next few weeks.
SAH continues to support community facilities and long-term care as far away as Elliot Lake with COVID-related responsibilities. Infection control staff, Roger said, have "daily jobs" with long-term care here and in Elliot Lake, about 200 kilometers east of Sault.
"They're handling that pressure well at the moment," Roger said.
On Twitter: @JeffreyOugler