Mary Taylor carries a symbolic baby coffin to a hearse Wednesday during a Pro-Life Utah memorial service at the Capitol in Salt Lake City to honor the lives of 1,746 unborn babies who were aborted in Utah in 2022. (Jeffrey D. Allred, Deseret Message)
Estimated reading time: 3-4 minutes
SALT LAKE CITY — Several state lawmakers joined anti-abortion activists and religious leaders Wednesday in a memorial service for the estimated 1,746 unborn babies killed since Utah's abortion ban was lifted in June.
About 100 mourners gathered on the steps of the state Capitol listened as several faith leaders praised the unborn baby and condemned a court decision that suspended the state's ban on withdrawals. For eight minutes before the memorial service began, speakers played the sound of a fetal heartbeat before observing a moment of silence.
"The loss of a baby through abortion is tragic, but I think the loss of these babies hit us a little bit harder because we knew they came so close to being spared this horror," said Mary Taylor, President of Pro-Life Utah, in a statement.
Rev. Gregory Johnson of Standing Together Evangelical Church in Utah pointed to the steps behind him at 1,746 carnations and said each flower represented one of the unborn children.
"Each of these babies was filled with infinite potential and hope for a better future," he said. "They were clean and pure and beautiful and wonderful and full of love. These precious little souls were not allowed to be born and come into being. These delicate little lives were not given that choice and so today we honor their lives."
Elder K. Bruce Boucher, Utah Area Seventy for The Church of Jesus Christ of Latter-day Saints, opened the memorial with a prayer, asking that "we might be able to see in the hearts of some who are with us a bring about great change today."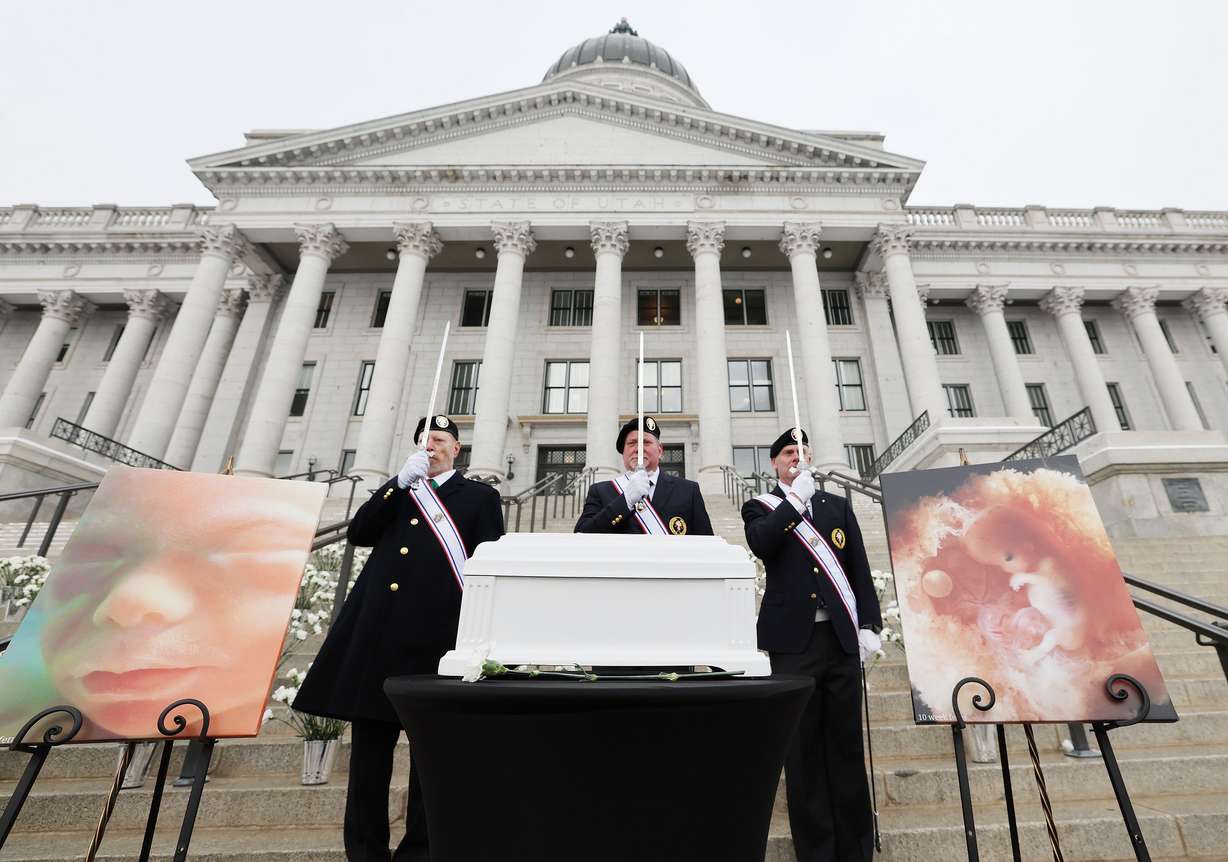 Deanna Holland, executive director of Pro-Life Utah, described the US Supreme Court's decision to dismiss the Roe v. Wade and Planned Parenthood v. Casey as a "miracle" and commended lawmakers for passing a 2020 withholding ban in anticipation of such a ruling.
"Roe and Casey broke down," she said. "That same day, Utah's Trigger Act went into effect, and for a moment abortion stopped. We breathed the breath of righteousness and praised God that Utah babies would be saved."
"And then the devil showed his face," Holland said, referring to a lawsuit brought by the Planned Parenthood Association of Utah and the ACLU of Utah that ultimately resulted in the withholding ban being stayed.
Pallbearers, including Utah Rep. Cheryl Acton, carry a small coffin to a waiting hearse that will take it to Mount Calvary Cemetary in SLC for burial. #utpol#utlegpic.twitter.com/Y33svq0WAt

— Bridger Beal-Cvetko (@BealBridger) January 25, 2023
Tyler spoke about her own experience of having an abortion and the regret she feels looking back on that decision.
"I unknowingly believed it was my body, my choice, without considering his body and his choice," she said. "I have cried countless tears for my child and the millions of others who have suffered the same fate. I have worked countless hours trying desperately to right this wrong. As Roe v. Wade was overthrown in June, it was a personal victory for me and for a moment I thought my job might be over. But that satisfaction didn't last long."
Tyler also criticized the decision to stay the Utah outlaw issued by the state's 3rd District Judge Andrew Stone.
"This legislature did the people's job and outlawed this horrific and barbaric practice in the state of Utah," she said. "And yet Judge Stone argued that you should prevent this law from going into effect on the grounds that implementing this law could cause irreparable damage. How ironic."
After the memorial service, Tyler carried a small coffin to a hearse and led a procession to the memorial to the unborn at Mount Calvary Catholic Cemetery in Salt Lake City. Multiple Republican lawmakers – Sens. Curtis Bramble, R-Provo and Mike Kennedy, R-Alpine, and Reps. Karianne Lisonbee, R-Clearfield, Cheryl Acton, R-Salt Lake City, Kera Birkeland, R-Morgan and Mark Strong, R-Bluffdale – were listed as pallbearers.
Lisonbee, along with Sen. Dan McCay, R-Salt Lake City, was a leading sponsor of the Utah no-dive.
×
photos
similar posts
The latest stories from the Utah Legislature
Other stories that might interest you