Reviews.org surveyed 1,000 Americans to get a handle on their streaming plans for this year, and 25% of responding Netflix subscribers said they plan to retire the service in 2022. This isn't good news for Netflix, which has been overtaken by Disney+; The latter now has 221.1 million global subscribers among its streaming units (Disney+ Hotstar, ESPN+ and Hulu) versus Netflix's 220.67 million.
In the first two quarters of this year, Netflix lost 1.2 million subscribers including a record 970,000 in the second quarter alone. So what is driving Netflix subscribers to leave the service? Two-thirds of survey respondents who said they were leaving the service blamed rising subscription prices for their responses.
In January, for example, Netflix's Basic One-Screen plan increased by 11%, its first increase in three years. Over the same period, Standard and Premium plans increased in price by 20% and 25%, respectively. This doesn't help Netflix's attempts to stop password sharing. Out of the eight most popular streaming services in the US, Netflix has the highest average plan cost. And that leads to 30% of users sharing their Netflix passwords outside of the family.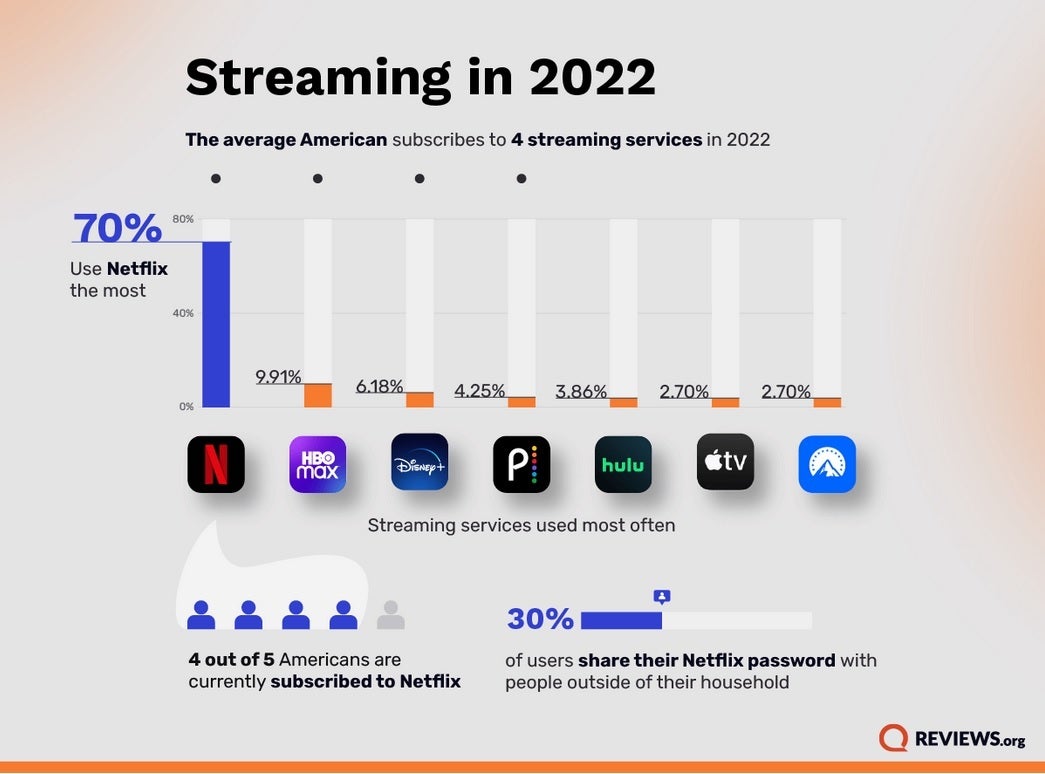 Netflix is ​​by far the most used streaming service in the States. CreditRatings.org
To stop the bleeding, Netflix is ​​expected to introduce a lower-priced ad-supported tier of service later this year. But the excitement seems to have shifted to Disney+ thanks to the continued popularity of the Marvel Cinematic Universe (MCU).
A lack of content was cited by one in three survey respondents who said Netflix no longer has the shows they want to watch. 30% of respondents said they use streaming services other than Netflix more often.
Reviews.org says the average American will subscribe to four streaming services by 2022. Of the 1,000 respondents, 78% subscribe to Netflix, 46% subscribe to Disney+, 42% are subscribed to HBO Max, 33% are subscribers to Peacock, with 26% subscribed to Hulu. 22% signed up for Apple TV+.
Here's the interesting thing. Subscribing to a service and using it are two different things. Although 78% of survey respondents subscribe to Netflix, a healthy 70% use the streamer. On the other hand, while Disney+ was in second place with 42% of survey respondents, only 6% actually watch it, which is only enough for third place. HBO Max is second at 10%.
Will Netflix bounce back and reclaim its streaming subscription crown from Disney+? This fight could be more interesting than all the programs that each service has to offer.